Siqueira returns from month-long Bangladesh trip
Sophomore Sofia Siqueira embarked on a month-long journey to Bangladesh as part of the American Youth Leadership Program (AYLP) to explore cultural affairs and to study the impacts of climate change, from Dec. 15 to Jan. 11.
Siqueira was among 30 high school students who were selected throughout the country as youth leaders to participate in the AYLP, sponsored by the Bureau of Educational and Cultural Affairs of the U.S. Department of State and World Savvy.
Siqueira had never participated in an exchange program, but volunteered at Borneo's Bornean Sun Bear Conservation Center last summer with the Oakland Zoo.
"I love to travel and also the focus of this trip was climate change," Siqueira said. "I am really interested in the environment so overall the experience sounded really interesting."
Siqueira attended regional meetings as well as online orientations to prepare for the trip and to get to know the other participants. Siqueira stayed with a host family in Dhaka, the largest city in Bangladesh. One week, the participants split into groups of 10 to explore different areas in Bangladesh while completing a service learning project. Siqueira's project was located at an organic tea farm in northern Bangladesh.
"On the tea farm, we did some labor, had workshops about organic farming and sustainable agriculture, and visited communities and schools to talk to the locals about their lives," Siqueira said.
In addition to the service learning project, She visited Jaago, an organization that works in the slums, went to an environmentally friendly brick kiln, and met Dr. Yunus, the founder of Grameen Bank and a Nobel Peace Prize winner. She also lived on a boat in the Sundarbans, one of the largest mangrove forests in the world, for a couple of days.
"I loved meeting everyone – the Americans and the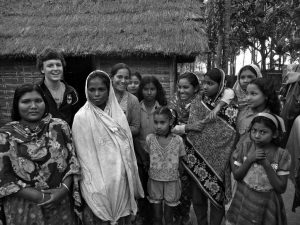 Bangladeshis, and the educators," Siqueira said. "They are definitely what made this such an amazing experience for me."
Siqueira met with her teachers prior to her trip to organize how she would complete her schoolwork since she missed two weeks of school.
"My teachers were very supportive of my trip, and they gave me a lot of the work in advance," Siqueira said. "[It was] really hard for me to come back finals week, but I [took] it one step at a time and [did] the best I [could]."
Sophomore Sophia Mills said she thinks it is very impressive Siqueira was selected to participate in the Bangladesh program.
"Sofia truly cares about making a difference," Mills said. "I think it is great she has found and applied to programs that are dedicated to issues she cares about."
World Cultures teacher Janine Sohn, who wrote Siqueira a letter of recommendation for the program, said Siqueira's global awareness, kindness, and maturity made her well-qualified for the Bangladesh trip.
"I think what she's [learned] there is worth the, perhaps, lost value in what she would have learned here," Sohn said. "Knowing Sofia, she's going to do all that she can to make up what she has lost."
Following their returns, Siqueira and the other participants will have to implement a Knowledge to Action (K2A) Project, starting in April. The goal of the project is to educate people who visit the Oakland Zoo abut climate change and how it affects animals in the Sundarbans.
Siquiera's mother, Mahvash Hassan said she hopes Siqueira's experience will encourage her to think about how connected we really are to people, who on the surface, might have very different lives.
"[I] hope that this experience is part of the process of Sofia and the other participants appreciating how environmental justice challenges across the globe can unify us," Hassan said. "These exchanges can be an opportunity [for students] to stretch personally by immersing [themselves] in a different culture and ultimately help prepare them to be global citizens."
Sohn said she has already asked Siqueira to share her experience with her World Cultures classes.
"I think any student who has an opportunity to get around and help people in another part of the world is something that is going to expand their point of view," Sohn said.
It is a learning experience and needs time to be digested, processed, and reflected upon, Siqueira said.
"I think with a program like this, many of the big changes and realizations will come in the weeks, months, and years following the trip," Siquiera said. siquiera 1 siquiera 2