Softball team falls to Arroyo, 3-16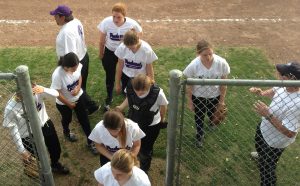 The women's varsity softball team fell 3-16 against Arroyo in a non-league game Friday, March 15.
Half of the team was absent and junior varsity players were brought into the game, senior Georgia Hill said.
The first inning began with Hill pitching and sophomore Claire O'Connor catching. The inning ended with Arroyo in the lead, 0-2.
Going into the third inning with the score 1-6, Arroyo continued to increase their lead with a home run. In the bottom of the third, sophomore Kennedy Christensen hit a sacrifice fly, increasing the score from 1-16 to 2-16.
In the fifth inning, Hill hit a home run, making the score 3-16.
"Georgia Hill continually showed exceptional effort," a parent on the stands said, "She was a stand up contributor."
Hill said, "Honestly we played our best. We did not make a lot of errors. Hopefully we will do better in league."
Varsity coach Frank Haskell has been coaching the softball team for three years. He said the team played smart during the game, but that during the next game, the team can work on hitting the ball better.
"I have the best group of girls I have ever had at Piedmont High," Haskell said.