Men's tennis crushes CPS, 8-1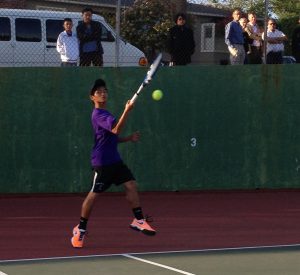 The men's varsity tennis team defeated College Preparatory School (CPS) in an 8-1 non-league match on Tuesday, April 2. Though CPS is in a different league, the Bay Counties League West division, they are ranked number one in their league and the tennis team plays them every year, varsity tennis coach Neil Rothenberg said.
"Playing CPS has been a tradition," Rothenberg said. "We always have good matches with them. Just today, for their misfortune, we came out smokin'."
The players were able to win the first six matches very quickly, an unusual happening, Rothenberg said.
"I don't think we've gone out this fast against them ever," he said. "The guys were kind of primed to play today. We've been playing a lot better lately and I think it's starting to show."
Rothenberg said the boys have been drilling on things at a deeper level, in terms of repetition, and it paid off.
"We obviously have talent but we also played the match well," said second-year varsity senior Zach Kramer. "We were competitive and played our best."
The players did particularly well in this match, Rosenberg said.
"If we play like this I think we're going to finish the season on a very high level," he said. "This will really help us for NCS because it's always good to beat a league champion."