DDG to play 'Music Mondays'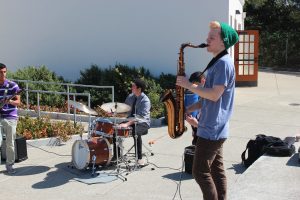 For four Mondays throughout the rest of the school year, the sound of sweet jazz can be heard through the Quad at lunch courtesy of Duck Duck Goose.
Duck Duck Goose, also known as DDG, is a school jazz band consisting of sophomore guitarist Xavier Prospero, and seniors bassist Josh Berl, saxophonist Sebastian Mueller, and drummer Joey Armstrong. The group came up with this idea of having "Music Mondays" with the help of concert and jazz band director Andria Mullan and ASB director Ken Brown.
"We wanted to play at lunch because it would be a fun casual way to play music for our peers. Also, we thought it would spice up lunch a little, doing something different, hopefully making Mondays more enjoyable," Mueller said.
Prospero, who in addition to playing the guitar in the 2nd period jazz band class also plays the tuba player in the normal concert band, acknowledged a self-interest in playing in the quad, getting the DDG name brand out to the public.
"We really just want it to be like a picnic out on the quad. A place where everyone in our school can go hang out during lunch. And course to build a fan base," Prospero said.
Senior Cooper Wetherbee, who plays trumpet in the concert band class, saw DDG's first performance in the quad and immediately liked the idea.
"Jazz is not very popular at PHS compared to pop, rap, and rock music, so I think it's great DDG is playing at lunch on Mondays and exposing the student body to a type of music they may not have known about or fully explored yet," Wetherbee said.
Prospero said that Mullan was very encouraging of the idea because she wanted them to show the school what the jazz band could do.
"We're just trying to give people something fun to listen to and also introduce people to a kind of music that otherwise they wouldn't normally hear," Prospero said.
Another benefit of playing at lunch is the ability to bring up fellow PHS musicians to play with them, Prospero said.
"Yes, we are definitely going to have some other people play with us. Possibly some vocalists and some other horn players, although the ideas are still very vague."
Wetherbee said the idea of adding musicians would be very intriguing to the other players around the school. In fact, Wetherbee will be joining DDG in the quad to play alongside on a Monday coming up.
"It's nice to see students get the opportunity to display their talent in a less formal atmosphere than an official concert," Wetherbee said. "As a musician, it's always fun to have an extra chance to perform, regardless of the setting or audience."
Although this set up required approval from the administration and ASB, Mueller said it was not difficult at all and the two groups were very encouraging.
"It was not as difficult as I thought it would be," Mueller said.
DDG has already played in the Quad once this year, and it seemed like people enjoyed the atmosphere so they decided to continue. The first time, however, was a little hectic so the members hope to cut down on the time it takes to set up.
"The first time we did it we weren't very well prepared and we had to go get some equipment from Joey's. This made it so we were barely able to start on time. But for future shows it would only take us a matter of minutes to set everything up," Prospero said.
Mueller said that they plan on arranging songs that will be more recognizable to non-jazz listeners to try to keep people around and listening.
"Jazz is a style of music enjoyed by millions, however, I feel like there is a lack of appreciation for jazz by the youth," Mueller said. "DDG has tried to end this stigma, by playing "easier" to listen to jazz songs such as our Outkast or Frank Ocean covers. What I really hope continues next year is this effort to show and share jazz spreading the appreciation of it."