Men's tennis truimphs over Bishop O'Dowd, 6-1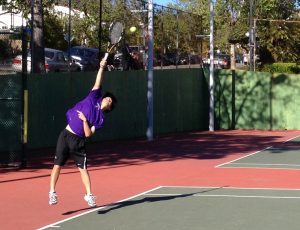 The men's varsity tennis team emerged victorious in a 6-1 league match against Bishop O'Dowd on Tuesday, April 9. Earlier in the season, they had beaten O'Dowd 7-0. Piedmont is currently 11-1 in league and 16-4-1 overall.
"We knew there was going to be one match for sure that was going to be tough because the first time they played it went three sets," varsity tennis coach Neil Rothenberg said, referring to number two singles player junior Kenji Ky-Fries's match.
In their previous match against O'Dowd, while his opponent won the first set, Ky-Fries won the next two.
"I knew it was going to be a tough match, but I felt pretty confident that I was going to beat him," Ky-Fries said.
From the very beginning, Ky-Fries and his opponent were neck and neck, both countering the other with strong serves and well-executed shots.
"I thought I played well during the first set and the end of the second set, but started playing worse at the end of the tiebreaker," Ky-Fries said.
In a heated, nail-biting match, Ky-Fries's opponent narrowly managed to win, 4-6, 7-5, 10-7. Although he lost, Ky-Fries said he is not too disappointed with the result because he is proud of how he played.
"He played his heart out against a guy who's really good," Rothenberg said. "His opponent is probably the best player on the team. I have a feeling they are going to meet up again in the league tournament."
As for the other matches, in singles, sophomore Daniel Lin won 6-2,6-2, junior Grant Gadbois won 6-1, 6-3, and sophomore Will Thacher won 6-1, 6-4. In doubles, senior Andy Slabaugh and freshman Brian Lai won 6-2, 6-4, seniors Charlie Newcomb and Zach Kramer won 6-1, 6-4, and senior Matt Leong and freshman Ricky Peters won 6-3, 6-2.
Rothenberg said although they did not have trouble winning the other matches, the team was a little lethargic, possibly because they were thinking about their next match.
"We're really determined to beat Castro Valley tomorrow because last time we went into the match a little too ahead of ourselves, thinking we would pull an easy win," Lin said. "After losing once, we've worked really hard preparing ourselves for this upcoming match. We are hoping to take the win in order to tie for first place in our league."
Regardless if whether they beat Castro Valley, Rothenberg said he is pretty confident the team will finish no worse than second in the league.
"I think we're sort of starting to peak for the end of the season, which is a coach's dream when that happens," Rothenberg said. "Last year, we peaked right before the playoffs, and we smoked every team. It would be nice if that happened again."