School board weighs options for $3.6 million surplus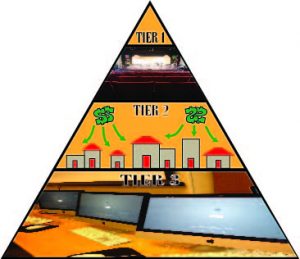 By the end of the school year, the PUSD school board plans to review where to allocate an excess of $3.6 million leftover from the Seismic Safety Bond Program (SSBP) funds mixed with modernization grants from the State of California.
SSBP and modernization grants generated $74.9 million; the SSBP was completed on budget at $69.1 million, with an additional $2.2 million having been earmarked for other modernization projects around the school district. The Board of Education will further review how to spend the remaining $3.6 million in the upcoming meeting on June 12.
Proposals to the Board will be led by the Modernization Steering Committee, which includes board members Rick Raushenbush and Roy Tolles, and Assistant Superintendents Michael Brady and Randall Booker.
"There are three categories the board has reviewed and will continue to review as they consider how to spend this money," Booker said. "Tier 1, Tier 2, and Tier 3."
Projects that are classified as Tier 1 are those that are of most necessity. These include reconstructing the orchestra pit at Alan Harvey Theater (AHT), repairing a storm drain at Piedmont Middle School, replacing Wildwood Elementary School's blacktop, and remediating nonstructural hazards across the district, all discussed at the May 8 Board meeting.
"There is one thing we are renovating this summer no matter what, and that is the orchestra pit filler," Booker said. "We have to install a new filler for safety reasons."
The Tier 2 option to repay the bonds would not occur as taxpaying citizens of Piedmont would not realize any savings for 20-25 years and the district would unlikely receive additional financial support for modernization from the state.
Finally, Tier 3 options would include projects such as thorough technology infrastructure improvements, a retaining wall at Havens Elementary School, and a fully remodeled AHT.
Over ten bids were received in response to a Request For Proposal from the district in regards to technological improvements that would create a backbone for a network that could support wireless access for up to 2000 users.
The AHT remodel in particular could potentially feature improvements in accordance with Fire and Life safety regulations and the Americans with Disabilities Act. Additionally, a green room, two new classrooms, and state of the art audio-video equipment could be added.
"The total of all these improvements would be cost $9.7 million, not including soft costs," Brady said. "Soft costs for things such as construction managers and inspectors could add another 10-15% to the bill."
While these various options have been and will be further considered at the June 12 board meeting, the principle $3.6 million is not enough to pay for everything, Booker said.
"It would take real community involvement, because the school district cannot afford [to pay for all the projects] currently," Booker said. "The school board cannot propose a bond measure, but if the community wants to pursue it, it is always an option."
In accordance with Proposition 39, 55% of the Piedmont electorate would be needed to approve the possible new bond measure. This process would be classified as a general obligation bond sale. If approved, a maximum of $60 dollars per $100,000 in assessed home value per year could be levied.