Neil Rothenberg coaching success continues this year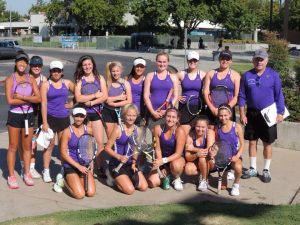 On a sunny afternoon at the Piedmont Recreation Department tennis courts, Piedmont High School Varsity Tennis Coach Neil Rothenberg steps aside to talk to me as the women's team warms up. Over the busy sound of tennis balls bouncing from racquet to court, Rothenberg tells me that he has been coaching Piedmont Varsity tennis since 2002.
He was interested in tennis far before then though. Rothenberg started playing tennis when he was 14 or 15, before making the UC Berkeley varsity team his junior year.
"I played a lot of tournaments growing up," Rothenberg said. "Not as much as they play now though."
Rothenberg has experience in coaching besides varsity tennis, having coached club soccer for 14 years and Piedmont junior varsity soccer and tennis, for a year each.
"I've been around the community for a long time," Rothenberg said.
After getting a teaching credential, Rothenberg taught elementary summer school for nine years with a class on starting business, "What's in Store." He also did a lot of substituting in Piedmont. Rothenberg even spent an entire semester taking over a 5th grade class at Beach while the teacher was on maternity leave.
"It was an amazing experience," Rothenberg said. "It was a great class, and a few of the [students] came out for tennis [when they got to high school], so I got to see them about 5 years later."
He coached elementary school students, Rothenberg said but he never wanted to do so with his two daughters.
"I never wanted to be the parent that was mean to their kids or played tennis through their kids," Rothenberg said.
Coincidently, when his youngest daughter made it onto the varsity team in her senior year, Rothenberg was moved up to coach varsity as well.
"It's traumatic when your daughter has to go through tryouts and everyone thinks you are going to cut her a lot of slack," Rothenberg said. "I didn't. My daughter made it on her own and it was great."
Rothenberg said that a reason he has a good relationship with his kids is because he did not coach them to start with. He said that in her senior year, when he was only a volunteer coach, his older daughter asked him to coach her matches instead of the head coach.
"Complimentary, or positive, criticism is fine," Rothenberg said. "But, I tried not to say much at all just because I wanted them to have a good experience."
Varsity tennis player sophomore Katie Yu said that Rothenberg is a good coach and cares about the team. She said that he gives the players pep talks before matches.
"[Rothenberg] always gives us advice while we're playing and makes sure everyone knows what is happening," Yu said. "Whenever I follow his advice, my tennis game improves."
Varsity tennis captain senior Samantha Lai said that Rothenberg does not like to give straight advice because he wants players to figure out their mistakes on their own.
"Sometimes it's frustrating, but it makes me grow as a player," Lai said.
She said that Rothenberg really cares about what he does. He gets really into coaching and will look up every single rule in the USTA handbook if he really has to.
"It shows that he's really dedicated to what he does," Lai said. "The team wouldn't be the same without him."
Luckily, Rothenberg has no plans to leave anytime soon. He said that he cannot think of a nicer place than Piedmont, and is going to continue to coach here as long as he is wanted.
"I love coaching here," Rothenberg said. "I feel a real connection with Corey, [the assistant tennis coach], so as long as he can do it, I can do it."