Men's basketball falls short against Marshall, 48-56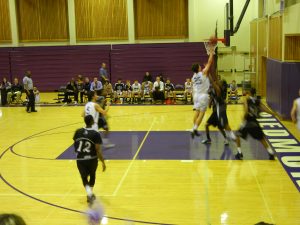 The Piedmont Mens Varsity Basketball team fell to Marshall 48-56 on Saturday night.
The Highlanders started with seniors Joseph Powell and Chris Fetterolf, junior Jackson Roberts, and sophomores Sean Rodriguez and Jordan Torio.
They came out in the first quarter with high intensity, outscoring Marshall 19 -15. Despite Piedmont's solid defense and quick ball movement, Marshall managed to level the score, ending the half 28-28.
Piedmont continued to play aggressively, but ended the third quarter trailing Marshall 35-38.  Marshall, gaining momentum, converted most of their opportunities, putting the game out of Piedmont's reach. The game ended 48-56.
"We played pretty well, but we weren't so good at shooting," Powell said.
Fetterolf led the Highlanders in scoring, with 13 points.
"I thought we battled and had fun," Fetterolf said.
With their loss against Marshall, the Highlanders still hold an impressive 10-3 record, keeping them eligible for NCS. One of the driving factors contributing to the Highlanders' successful start has been the performance of the younger players on the squad.
Torio and Rodriguez, only sophomores, already hold one year of varsity experience under their belt. Both players have made vital contributions to the team's offensive and defensive success.
"There's a lot of pressure, but that gives [us] a reason to work harder," Torio said.
Players have set team and individual goals for this season.
Powell said that the team's primary goal is to "make playoffs and go as far as we can."
The Highlanders have a league game against Arroyo on Wednesday, an opportunity for them to bounce back and work towards getting a higher seed for NCS playoffs.