Student actor shares his story
Junior Thomas Horn takes four weighted classes, dances with the advanced dance class, plays classical piano, and has recently received film interest for a role he auditioned for.
Horn says he goes to LA about every other month to audition for movies in person and also occasionally sends in audition tapes. Although Horn said he intends to pursue acting after high school, he wants to study something else in college because he said it's always best to have a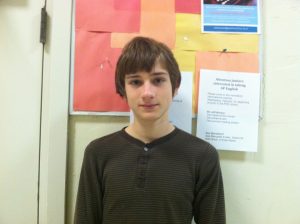 back up plan.
Besides his acting career, Horn has been studying Mandarin since seventh grade.
"I think Mandarin is incredibly interesting and has the most practical use of all the languages," Horn said.
Horn is in history teacher Mark Cowherd's AP U.S. History class. Cowherd said Horn is very strong academically and always engaged with anything they do in class.
"He has a great attitude and I think having him in the class makes the class better," Cowherd said.
Horn also said he really enjoys dance. He is in the advanced dance class and said there is a dance performance coming up on May 3. The performance is Tarzan and Horn is playing John Clayton, the villain, which he said is a different part than he is used to playing.
"For film I often play the sympathetic protagonist and when it's not, I usually play the geeky character," Horn said.
Dance Teacher Amy Moorhead said Thomas is an extraordinary man who stands apart from the rest. Moorhead said Thomas started dance as freshman and is very thoughtful in his dance approach which makes him fun to watch.
"Thomas is creative and approaches the discipline of dance with the appropriate reverence and appreciation," Moorhead said.
With the upcoming dance show it's very fascinating to watch Thomas create the character of John Clayton, Moorhead said. Moorhead said Thomas uses his creative thinking to throw himself into the choreography.
"Thomas is a joy to work with and we are lucky to have him in the program because he enriches it," Moorhead said.