Throwers throw out, jumpers jump onto sprints team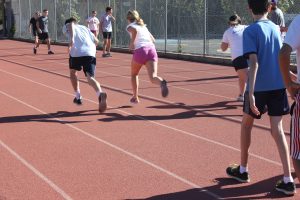 Shot puts and discuses will not fly, spin, or glide through the air at the track anymore.
Explaining the reasons behind cutting the throwing team, Track and Field coach Jeanine Holmlund said that one of the biggest complaints from last year's student evaluations was that the coaches were not always at practice.
"We were unable to find a coach that could make the unusual hours of 3:30 to 5:15 Monday through Friday and many full Saturday track meets and many full Saturday track meets," Holmlund said.
Senior and former thrower Alison Parker said that it is too bad they cut the team but at the same time, she did see why they did, because she said the throwers were not the most hardworking bunch and most were just doing it for the P.E. credits.
"I think it's unfortunate that they cut the throwing team because it was so much fun and something really different that not a lot of people know how to do," Parker said.  "I was ready and excited to try it again this year and was really sad that they cut it."
Holmlund said that it takes a lot of love of the sport and desire to help others reach their goals as a coach, and that maybe in the future, with enough interest and talent, they will be able to grow the team.
"The track team will just have to do without our fantastic lunging and flawless throws this year," Parker said.
Also a change to Track and Field this year, jumpers are now required to participate in either a sprinting or hurdling event. Holmlund said that running sprint events, jumping and hurdling are extremely technical and running fast is an integral part of the long jump, high jump, pole vault and hurdling.
"Sprinters, jumpers, and hurdles all require the same skill set to be successful," Holmlund said.  "They need dynamic power to move their bodies through space."
Junior Sophia Mills runs for cross country and track. She said that it's a good thing that the jumpers get a chance to try different events, but that she doesn't think they should necessarily have to run a sprinting event at every single meet.
Holmlund said that the coaches want to make sure everyone has the skills they need for their events.