All lacrosse seasons begin successfully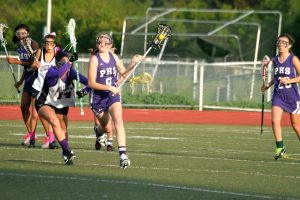 Rain streaming down their faces, two players wait eagerly for their coach to toss the ball, signaling the start of the dog fight. Seconds later the ball is released from his hand and their soaked feet dash across the puddle-laden turf towards the other end of the field. Using her elbow to ward off her teammate, one player sprints ahead and scoops the ball into her lacrosse stick. Unwilling to admit defeat, the other rushes to the goal to play defense. The shooter rapidly sends the ball flying towards the net, but it bounces off the left goal pipe. Without a moment's rest, the two jog back to the end of the line to repeat the drill.
Working hard in practice and winning the majority of their games, the lacrosse teams are all looking to continue their success this season.
"We're all trying to get to know each other better. I came in only knowing the freshmen and a couple of sophomores, so it's been nice getting to know the juniors and seniors on our team," women's varsity player freshman Addie Christensen said. "We also have a new goalie this year, Lucy [Skugstad], and she's never played goalie before, but she's rocking it."
Women's varsity head coach Lanon Gillins said the team is unlike a lot of girl teams in that the players are not cliquey. They work hard and fight for each other.
"The number one thing we're trying to do is get better everyday – stay humble and healthy," Gillins said.
The team is highly skilled, but needs to work on being consistent and showing effort in the beginning of games, Gillins said.
"Honestly our highlight was our lost to Clayton Valley in triple overtime," Gillins said. "It was the first consistently good half of lacrosse I've seen all season."
Women's varsity captain senior Lucy Skugstad said the team has a lot of depth and speed, and that everyone can basically play every position.
"It's fun and focused most of the time, but when it's time to do work, the intensity is there," Skugstad said.
Her favorite moment so far, Skugstad said their game against O'Dowd ended in victory during sudden death.
"Freshmen stepped up and kept us in the game. It was very back and forth the whole time," Skugstad said. "They really thought they had won at the end of the game, but we got the ball and scored to tie the game with about two seconds left it was crazy. Marley [Bratman] scored the game winning goal [in sudden death]."
Men's varsity assistant coach Ben Schenone said his team has a good mix of young players and veteran leaders.
"They've got a lot of experience coming back from last year, we have a good senior class," Schenone said. "We also have a lot of young guys that we brought up to the team this year."
Men's varsity captain senior Peter Lally said although they have had their ups and downs, it is great to see the team developing in chemistry and in skill level.
"We've had a few really difficult games and those have really opened our eyes," Lally said. "It's very noticeable how people are working a lot harder after those games. We've adapted well after those and they have made us stronger."
Men's varsity player junior Alex Krenitsky said they played a great game against Berkeley, beating them 16-7. Since they beat Berkeley away, he's looking forward to playing Berkeley at home.
"The rivalry's so intense, and there's definitely the chance of injuries," Krenitsky said. "Everyone just gets pumped up for the game. A couple of years ago, even parents in the stands got in a fight."
Men's JV player sophomore Will Gutske said he believes they have a strong team this year and is looking forward to playing and winning games.
"We do fun drills and we kid around sometimes, but we're mostly serious," Gustke said. "Our defense is very strong."
Women's JV player freshman Amelia Eldridge said as the season is progressing, everyone is stepping it up and improving their game.
"We all play off each others individual strengths and always have each others backs on the field," Eldridge said.
Last year, men's varsity reached the semifinals of NCS.
"A lot of these guys are just hungry and really excited," Schenone said. "They want to improve themselves and get back to where we got last year, if not win an NCS championship."
Gillins said right now, the first step is to try to win their league.
"I'm looking forward to seeing these girls perform under pressure, when every game matters, when every ball matters, when every shot matters," Gillins said.
The team lost to Miramonte in the first round of NCS last year.
"We're trying to keep it slow and play at our own pace," Christensen said. "I think we have a really big chance of winning [NCS]¥ this year because of our calm state and our organized, smart playing."