Golf team looks to swing big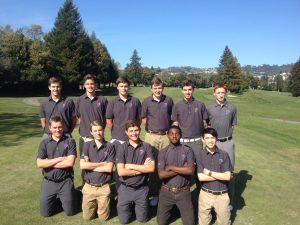 The men's varsity golf team is looking forward to a successful season this year, along with the junior varsity team.
The men's golf team was split into two teams this season; one JV team and one Varsity team.
Tryouts were held towards the end of February, and lasted for three days at the Montclair driving range. So far, the men's varsity team is undefeated after three matches.
"The reason I think we have a JV team this year is because twice as many guys came out to play, and instead of cutting a bunch of people they just decided to make a JV team," captain junior Skip Hill said.
Hill said the season has been great so far and all the starting six guys have been playing amazing.
"We have been bringing in that low score every time so we just got to keep up the good work," Hill said.
Senior Connor Christiansen, a member on the men's varsity team, said that one reason why he likes to play golf is because he enjoys the fact that every game of golf is very different and presents various challenges.
"Some strengths of our team is that we focus a lot on short game, like putting and wedge play," Christiansen said.
Similarly, sophomore Reece James, a member on the men's JV team, said that one strength of the JV team is that everyone works very hard to accomplish better scores and also continuously working on better sportsmanship.
"This season has gone very well so far, many new kids like myself have joined and are working to improve our skills," James said.
James said that one aspect of the game that he enjoys is the feel of playing a great game and knowing that each hard working practice has paid off.
"My favorite part of playing on the JV team is that everyone is really relaxed," freshman Blake Meyers, a member on the men's JV golf team said.
Meyers said he became interested in golf because his family plays golf, so he learned from a young age.
Senior Jason Duecker decided to play golf this year for the first time, so joined the JV team.
"I joined this year because a couple of my friends were doing it and I wanted to improve my game and joining the golf team gave me more opportunities to play other that just with my dad," Duecker said.
Duecker said he is very excited about playing golf and learning the game better.
"This year I just want to get better at the game as something I could enjoy later in life and also to have some more fun when I'm out on the course with my dad," Duecker said.