Volleyball unsettled by injuries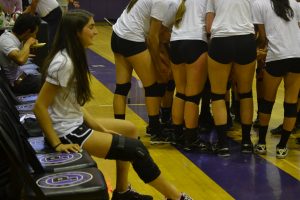 Varsity volleyball must train new setters after injuries to previous setters, juniors Jackie Roland and Lizzie Bjork, prevent them from playing.
Team captain and senior Gabrielle Pehanick and junior Eliza Lucas are transitioning into the setting position after Roland tore three tendons, including her ACL, on Sep. 25 and Bjork sprained her ankle on Aug. 20.
In volleyball, the setter is the player who makes the second contact with the ball and gives it to the hitters.There is only one setter giving the ball to the hitter at a time, however, there can be two on the court.
Lucas said that transitioning from a hitter to a setter in volleyball is extremely difficult.
"Setting is a crucial position because without getting the ball to the hitter, you can't score points," Lucas said.
Since Pehanick and Lucas have become setters, players have had to adjust to new positions. It is a setter's responsibility to keep the ball in play after the first contact.
"The setters need to know what everyone is doing and have control," Roland said. "They call the plays, sort of like a quarterback."
Becoming a setter requires a player to be aware of the ball, their teammates and the other side of the net throughout the entire game. Volleyball coach Sarah McClendon said the most challenging aspect of the injuries is bringing the team back up to speed with new positions and a new offense.
"We are more motivated because we took a hit and want to come back stronger than ever," Pehanick said.
Although she has had setting experience in middle school, Lucas has played as a hitter throughout her high school career.
"I have had to completely change my mindset from getting ready to hit the ball, to running to set it, " Lucas said.
"Jackie and Lizzie are key parts of the team, but no matter what, the team will succeed and do well," McClendon said.