Cheerleading Team to Compete
The cheerleading team has decided to focus on a new field this year by showing off their routines at cheer competitions, starting October 11.
The idea of competing was brought to the team by cheer coach and former Cal cheerleader Kelsey Garcia. Both Garcia and assistant coach Brooke Banning attended high schools where they cheered competitively. The idea was then voted on by the team, with the majority of the team deciding that they want to start competitively performing their routines.   
"I think that everyone on the team just wanted to start taking cheer a lot more seriously and their skills have been improving a lot over the past few years and they wanna take it to the next level" Garcia said.
The  first competition is the "Kingdom Classic" at Six Flags Discovery Kingdom, on October 11. The competition was founded by a company called JAMZ, who puts on cheer competitions all over the West Coast. The team will be judged on their stunts, tumbling passes, and choreography. The more difficult the team's stunts, the more points the team earns, but points will be deducted for mistakes.
As of right now, the team is undecided on how many competitions they will attend, but if the first experience is positive they could do up to three or four.
"I'm so excited, I've always wanted to do competitions ever since I've joined cheer." Said senior cheer captain Nicole Hession. "I would watch YouTube videos of cheer competitions and I thought that it was so cool, so I'm really excited for this season and to do competitions."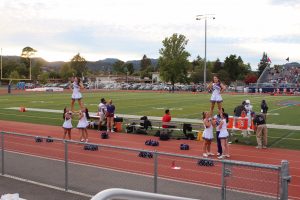 To prepare for the competition the team will extend their practice hours and increase their stunts and tumbling passes. The team traditionally has different routines that are only performed at football and basketball games, but they have hired a choreographer to teach them a much more complex routine that will be exclusively performed at competitions throughout the year.
"I know that there are a lot of really good competition teams out there so, I don't think we're not ready, but I don't think we'd really come close to winning."  said Cheerleader, sophomore Maddie Lincoln
However, Garcia's optimistic outlook remains strong,

"I think we'll do good, it's hard to say because we don't know who exactly will be at each competition, but I'm excited."
Although Cheerleading has been a long standing tradition at Piedmont High School, the cheer team will go into their first competition as the first Piedmont cheer team in recent history to take their talent to the competition level.
"I'm hoping that people will actually treat cheer like a real sport if we compete, because a lot say it's not really a sport, so I feel like people will think of it as a sport instead of just a thing people do" said Lincoln.