Freshmen Run to Success on Varsity Cross Country
As they approach the dusty finish line, persevering through their last step, the two girls finish the cross country race, smiling when hearing amid murmurs of "wow, they're the freshmen."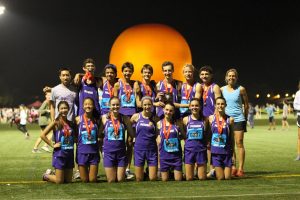 Erin Hong and Margo Donahue have already made names for themselves in the Northern California cross country scene. Finishing their race against College Prep as Piedmont's top three fastest runners, Hong placed in first and Donahue in third.
The girls continue to impress the coaches, showing their strength and determination when placing in the Woodbridge invitational in Irvine, their most recent race, as the fastest freshmen with times of 18:26 and 18:32 for three miles.
Both Hong and Donahue have been running since sixth grade. The high school coaches noticed both of their abilities when they began running for the middle school cross country and track teams.
"They show great determination and give it their all every single day," cross country coach Jeanine Holmlund said.
The girl's' passion for running is visible. Holmlund said that among the top 15 runners, Donahue and Hong are always in the front of the group, never stopping to slow down.
Although they are new to the team, Hong, Donohue, and Clarissa Lam, feel fully interwoven within the team.  
"Everyone is supportive of one another," Donahue said.  "Although it is deemed an individual sport, you work together more than you would think; we are all one unit."
"Whether or not a runner is in the mood to run, they do it anyways and always end up enjoying it to some extent," Hong said. "Because the team runs together, it makes it easier to persevere through the hardest parts of the run."
Hong and Donahue say that although it's only been a month into the season, the team already feels close.
"We recently had a team camping trip which really bonded the team together," Donahue said.  "We have a lot of things planned and I'm very excited to be a part of the team."