Rosenbaum commits to Division 1 Lacrosse
After muscling through the recruiting process, junior Sam Rosenbaum has decided he wants to play lacrosse for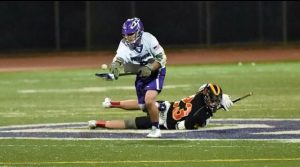 University.
When he saw how the game operated and the action and excitement it produced for the spectators, he was instantly drawn to lacrosse.
"I started in 7th grade and I really liked the speed and physicality of the game. I liked how it was fast paced," Rosenbaum said.
As the captain of the school team, his responsibilities are to make sure that his teammates attend off-season conditioning and stay in the loop.
There are rookie lacrosse players looking to enhance their performance, but are not entirely sure how.
He said to "Hit the wall, all the time. They'll know what that means. They should keep their stick in their hand as much as they can. Play as much as they can. And be an active learner."
Having played lacrosse for a while, he is now used to the expectations and hard work that must be put in at practice and on his own time to hone his skill and help lead his team to success. Simultaneously, he must keep his grades up as much as possible because Bucknell can reconsider his position on the team if his GPA is not high enough.
"Bucknell is a really good school. They won't even talk to kids if they don't have a good GPA," Rosenbaum said. "I have to try just as hard as I've been doing if not harder."
The recruiting process can be extremely stressful, and more often than not, luck is a big player if a student will get into that certain college, Rosenbaum said.
For a long time, he did not think he would have a chance to play for Division 1.
"There's so much talent out there and there's so many kids, and at this point, not a lot of Division 1 schools [to play lacrosse]," Rosenbaum said. "It was always my goal, but Bucknell for over a year was in my top three choices and I didn't think it would really be possible. And so it was a dream come true."
He made it to Bucknell, but what has stood out and has been difficult for him is not starting earlier, where he has fallen somewhat behind the group and always in a game of catch up to play like they do. Some, if not all the guys on his club team have been playing since elementary school, which has put him at a disadvantage against the rest of the field.
Never letting up and working at his craft has taught him perseverance, social, communication, and writing skills, as well as planning and organization to best manage his time.  
"Sam isn't one of the biggest guys on the team, but what he lacks in size he makes up for in speed, tenacity, and his ability to and willingness to push himself every day as a lacrosse player," said teammate Walker Payne.
The competition in college is more intense and the drive to win is aggressive. It is a step up from the level of action he has been in before, but Rosenbaum is optimistic it will make for better games.
"I'm super excited about it. I love playing with and against people that are as passionate as I am, and California isn't as much of a hotbed for lacrosse as it is on the east coast," Rosenbaum said.  I'm really looking forward to playing and having that level of competition. It will make me a lot better. Division 1 NCAA lacrosse schools are only on the east coast."
His pregame ritual includes lots of stretching, eating something with peanut butter, and listening to music to get him pumped up.
"Sam has worked really hard and I am happy to see that his effort and dedication  are paying off," said teammate Jeff Asa- Hauser.
He sleeps a lot after big tournaments, but more lacrosse is relaxing. It has become more than a game to him.