Huang leads tennis team on and off the court
When varsity tennis captain senior Katie Yu wanted to work on her volleys, she turned to her teammate freshman Angela Huang for help. Huang, although a newcomer to the team, is already the No. 2 singles player and a leader for the women's varsity team.
Since she was ten years old, Huang has been developing her skills on the court. Originally on a recreational tennis team, she has now progressed to playing every afternoon along with morning practices three days a week.
"She's really intense about tennis and really cares about the sport," Yu said. "Even though she's really quiet during her matches, I can tell she really cares about the way she plays."
In addition to playing on the varsity team, Huang plays for Claremont Academy, a club tennis team that practices at the Claremont Hotel. Huang will be traveling to South Carolina with Claremont Academy to compete in the United States Tennis Association Junior Team Tennis 14 and Under National Championships starting Dec. 3. Last year at the same tournament, Huang and her team got eighth place out of 32 teams.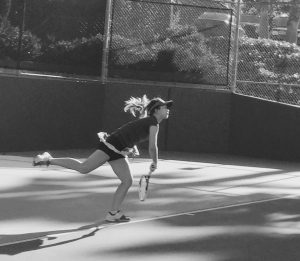 "Last year's tournament was really fun," said Huang. "We got to play against people from like Florida and Puerto Rico."
Women's varsity tennis coach Neil Rothenberg has been coaching tournament level PHS players since 2001 and has seen them progress through the ranks.
"With the legacy that Piedmont has, coming in as a freshman and playing No. 2 is a pretty good accomplishment," Rothenberg said. "That right there tells you what kind of player she is as far as the respect and her experience."
According to teammate freshman Noreen Au Young, Huang brings both her skills and bubbly personality to practice.
"Angela makes everyone laugh and she is so funny," Au Young said.
Having someone who is both skilled and playful helps the team succeed in competition and also as a unit, Yu said.
"She is really good so she brings seriousness, but she also brings playfulness," Yu said.
Coach Rothenberg has also noticed how Huang's skills have helped the team grow.
"She is a great addition," Rothenberg said. "One thing you have to impress upon, especially freshman who are not used to playing for a team, is that when you play high on the ladder of a high profile team like we have, that you make everyone below you much better because you make us so much deeper and stronger as a unit. That really makes a difference."
Although she originally debated on whether to join the high school team because of her commitment to her club team, Huang loves being a part of the team. She looks back on her choice as a great decision.
"All the girls are really nice and supportive," Huang said. "Going out to play with each other is really fun."
No matter what happens at her tournament or in the rest of the high school season Huang has found great positives in the sport.
"For me tennis is my outlet because even if I have a bad day at school I can always have a new group of people and I don't have to focus on if I have drama or whatever," Huang said.