Cross Country teams place in NCS and WACC
As teammates and parents cheer, junior Kayla Lim runs through the wooded park towards the finish, trying to forget about her nerves and the pain of racing. When she finishes, she is the first Piedmont girl in the state meet, leading her team to their 5th place finish.
Both the women's and men's cross country teams won WACC on Nov. 7. The women's team won NCS for the second year in a row on Nov. 21 and also placed fifth in state on Nov. 28. The average time scoring at state — 19:34 — is the fastest ever for the PHS women's team. The men's team finished in fourth at NCS and missed qualifying for state by one point.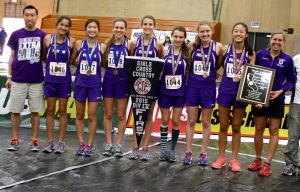 At state, Lim was the fastest Piedmont runner and placed in 28th, with a time of 19:27.3 for the 5 kilometer course. The other scorers were captain senior Emma Seevak in 30th, junior Addie MacCracken in 31st, freshman Erin Hong in 35th and sophomore Sofia Barker in 51st. Freshman Margo Donahue and captain senior Maggie White also ran at the state meet, however only the first five runners from each team score.
Cross country coach Jeanine Holmlund, often called Coach B, attributed much of this year's success to the attitude in which athletes started the season, especially in contrast to her previous three years at Piedmont.
"[The runners], mainly the junior class understood that they were coming here to run and we want to do well, because what is the point if we don't care?" Holmlund said. "So they care and it has spread and created a new culture that we are going to run and work hard."
At NCS, the women's team scorers were Hong in 2nd, Seevak in 6th, Lim in 7th, Barker in 8th and MacCracken in 9th. Hong's time was 19:02. Donahue and freshman Clarissa Lam also ran at NCS.
The men's team scorers were captain junior Daniel Jones in 13th with a time of 16:26, captain junior Cade Becker in 17th, junior Jordan Marcus in 29th, sophomore Reece Proctor in 35th and captain senior Chris Machle in 40th. Sophomore Tobias Fischer and senior Mingwei Samuel also ran.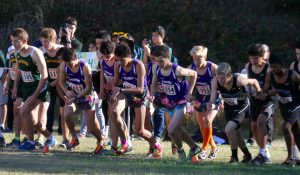 "Everyone is more motivated than in past years," Becker said. "We have a bigger push to do the best that we can, which is really good to see."
Becker does not know where the increased motivation originated, but he thinks that the leadership of his teammates played a role.
The women's varsity team had set a goal to place within the top three at state this year, Holmlund said. The team placed fifth in 2014, fourth in 2013 and ninth in 2012. Further, since the state meet began, there have only been two years where there was not a Piedmont runner in the race, Holmlund said.
"Cross country is one of the most supportive teams out there," said Hong said. "You wouldn't expect it but everyone is willing to help one another and at every race there are people cheering you on."
In the week leading up to the state meet, the team tapered, discussed race strategy and visualized the course in order to prepare for their upcoming race. To boost performance throughout the season, many of the varsity runners ran over the summer.
"Not everybody [ran] but those who really stepped up in their times, they ran over the summer and that made a lot of difference for them," Holmlund said.