Where: 3415 Grand Ave
Price: $8.50 for a JJ Burger
Order Ahead: (510) 451-0633
Hours: Tues-Sun, 11:00 a.m. to 9:00 p.m.
Located across Grand Ave. from the 7-Eleven, just a five minute drive from campus, JJ Burger serves up classic fast-food style burgers, fries and shakes, but distinguishes itself with high-quality food and a variety of options within the realm of circular American sandwiches.
The restaurant is small and would be easy to miss if not for the happy little burger on its awning. The inside is similarly utilitarian and clean, with a couple tables, a soda fountain, condiment bar, free wifi, a helpfully subtitled TV and a counter where a kind old lady takes orders.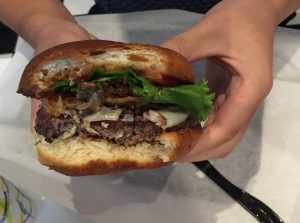 The burgers themselves are delicious, much better than JJ Burger's plain interior might otherwise indicate at first glance. The patty is six ounces of Angus beef, slightly thicker than your average fast-food style patty and cooked to medium doneness. Besides the standard tomato and lettuce, the JJ Burger includes crisp and thin fried onions, one of six cheese options and sauteed mushrooms, the latter of which gets lost as you eat. If you feel so inclined, you could create a burger-monster with avocado, hickory smoked bacon, an organic fried egg (or two) and sauteed onions.
Maybe the most remarkable thing about the JJ Burger is its brioche bun: sweet and pliable, but not overly bready. JJ Burger is one of the few burger places in the area that serves brioche buns, and probably one of the cheapest.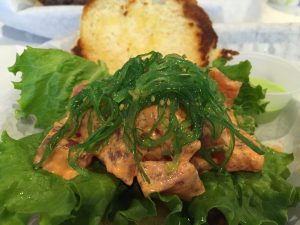 In addition to beef, there are also options for chicken breast, turkey, breaded fish or a veggie patty to sandwich between those fancy buns — as well as, for the less boring, an ahi poke sandwich.
Ahi poke is a Hawaiian salad primarily composed of fresh raw yellowfin tuna, in this case mixed in a fairly standard, mildly spicy sauce, with crunchy seaweed salad on top and a bright wasabi mayo sauce on the side. This unusual and unusually tasty option does the most to distinguish JJ Burger from competitors like Flipside or True Burger.
With a solid burger, you need solid sides. Here, JJ Burger meets but does not exceed expectations. Fries are thin, crisp and easily shoved into mouths, but this means that they, especially the sweet potato ones, fall short of their full potato-flavor potential. The garlic fries, however, have satisfyingly garlicky flavor. There is also a house salad and more of those fried onion tanglers. Shakes come in chocolate, vanilla and strawberry and are tall, thick and sweet, with a good value at $3.95.