One-to-one technology creates new benefits and challenges
When sophomore Reece Proctor was using his Chromebook during lunch, tabs started randomly closing. Proctor is not the only student who's experienced this. In fact, for the first time, every PHS student has a Chromebook this year.
"It was kind of funny. For a second I was like, am I losing my mind?" Proctor said.
No, Proctor was not losing his mind. In fact, a teacher was experimenting with the capabilities of the Teacher Dashboard Interact software and closing his tabs remotely.
The district decided to invest in Chromebooks in response to new computer-based standardized testing, teacher requests for more access to technology and 2011–2012 state and federal guidelines that advocate one-to-one technology, said Director of Instructional Technology Stephanie Griffin.
"Students have access all the time to learning, information and the world," Griffin said.
The new technology has brought surprises, both positive and negative.
"It's no longer a pilot. That was last year," said English teacher and Technology and Learning Coach Debbi Hill. "It's still new to us and we're still working out the flow of communication. I'm learning every day about when and how to use the Chromebooks."
Sophomore Katie Fraser said that since receiving her Chromebook last year, she uses it for a large portion of her homework and classwork.
"I think that gets us ready for using computers once we leave the high school," Fraser said.
In contrast, junior Nina Adarkar said that using Chromebooks has not changed her learning experience significantly.
"Not that many of my teachers use Chromebooks," Adarkar said.
Hill said that she hopes all teachers will incorporate teaching with Chromebooks.
"As someone who loves technology and sees the value of it, my hope is that all teachers will find them useful tools to use in the classroom," Hill said.
A Tool For Teaching
Most teachers have already integrated Chromebooks into their teaching.
Spanish teacher Virginia Leskowski said that her classes use Chromebooks in two ways: accessing listening activities and creating digital portfolios, which are websites that showcase students' language abilities.
"In languages, we had been at a disadvantage in comparison to other schools because we had no language lab," Leskowski said, referring to computer labs that are used for listening comprehension practice. "The one-to-one Chromebooks put us on an even playing field with schools that have incredible facilities for language learning."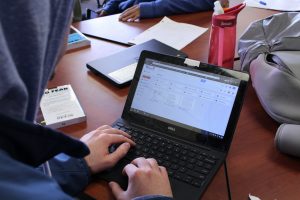 In Hill's English classes, the Chromebooks have changed how she gives formative assessments. By using online quiz services, she has instant data about student learning.
"I am able to know much more efficiently and deeply what individual students know and what they need more help with," Hill said. "That's a huge thing. I can't emphasize that enough."
Hill has also experienced a paradigm shift in how she teaches writing. Instead of waiting until students submit assignments to give feedback, she can check in on their processes while they are working and give feedback when it's meaningful, she said.
"Rather than waiting for a student to approach me to ask for a writing conference, I can help students who are struggling," Hill said. "For the students who are doing well, I can push them a little further. It allows me to differentiate in my instruction."
Leskowski said that the Chromebooks also promote differentiation in her classes during listening activities, allowing students to learn at their own levels and paces.
"Differentiation is natural because the students can replay the audio source as many times as they want," Leskowski said.
In addition to fostering differentiation, Chromebooks enable teachers to communicate with students from their desks, social studies teacher David Keller said.
"I can be sitting at my table and see whether or not they have a question," Keller said. "There's a connectivity piece that's kind of nice."
Leskowski said that the Chromebooks have also made the curriculum more spontaneous. For example, when someone mentioned an extreme sport in Nicaragua called lava-boarding, students were able to watch a YouTube video of it.
"It allows more opportunity to engage the students in a way they find meaningful in the moment," Leskowski said.
The availability of resources on the Internet has changed the role of teachers, Hill said.
"It's added more responsibility to my job because I need to help guide my students to make sure that they're getting valid and true information," Hill said.
Proctor said that Chromebooks have not changed his interactions with teachers.
"In class, you still work with a teacher and listen to the teacher," Proctor said. "At the end of the day, the teacher is still teaching the class."
From a student's perspective, Adarkar believes that the district should continue to invest in one-to-one technology.
"The Chromebooks are really helpful for getting your homework done faster and getting textbooks online so that you don't have to carry them around," Adarkar said.
Similarly, Proctor said that having a Chromebook has made notes, presentations and group work more convenient.
"You have to carry around a lot less paper and and it's way easier to turn things in online," Proctor said. "It's a lot more organized to have all your stuff in one place where you can't lose it."
Fraser said that while Chromebooks are not perfect for everybody, she feels lucky to have them.
"It's pretty great that we have an opportunity to use these," Fraser said. "It's a privilege."
Distractions and Daydreams
While teachers and students have found benefits in having the Chromebooks, they have also found downsides.
Keller has noticed that when Chromebooks are open in class, students stop interacting with each other.
"They're just completely focused on the screens," Keller said. "I think that's a major problem."
In a similar vein, Hill is concerned about the amount of time that teachers and students spend looking at screens.
"All kinds of studies show it's not healthy for our bodies or for our brains," Hill said. "Just like any new technology, it takes time to find a balance and to make it work well."
Hill and other teachers also expressed worry about students being off task on Chromebooks.
"All of us who use technology, whether it's smartphones or laptops or Chromebooks, know that it's incredibly distracting," Hill said.
In response, Hill said that she instructs students to put their screens down when she wants students to listen to her or each other.
As a student, Adarkar said that when she has gaps of free time during her classes, she does homework for other classes on her Chromebook.
"I think it might have had more of an impact at the beginning of the school year because I was excited to have a Chromebook," Adarkar said. "Now I'm not on it as much."
Similarly, Leskowski said that managing distractions has become easier as she has adjusted to teaching with the one-to-one technology.
"It's a tool that can cause distraction," Leskowski said. "But with a few modifications with how the tool is used, it becomes a really powerful thing."
Keller said that the Chromebooks have changed his relationship with students because he can see their distractions during class.
"Now they're daydreaming in a way that I can actually see on their Chromebooks," Keller said.
Monitoring and Discipline
When the Chromebooks are purchased, they are enrolled in the school domain, which connects them to the school Wi-Fi networks, applies the web content filter and enables extensions such as Teacher Dashboard. Teacher Dashboard's interact feature allow teachers to see certain information about their students' Chromebook use during school hours, including which tabs they have open and what is currently displayed on their screens, Griffin said.
Keller said that the interact tool is useful because it allows teachers to see what students are learning and working on. When Keller was absent earlier this year, he could see what his students were doing with a substitute during class, he said.
"I've had situations where students are in class and they're looking up all kinds of crazy things online," Keller said. "There's very much a disciplinary component to this piece of technology."
On the other hand, Leskowski doesn't use Teacher Dashboard very often because she feels like it is a "little creepy" and would rather spend her time in other ways.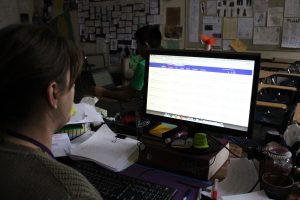 "I'd rather be walking around seeing who's speaking Spanish rather than spending my time sneaking around [on Teacher Dashboard]," Leskowski said.
As a student, Fraser recognizes the practicality of Teacher Dashboard for discipline, but she finds the monitoring kind of weird.
"It feels like Big Brother," Fraser said.
When students are caught with distracting tabs open during class, teacher responses vary, Fraser said.
"Some teachers will call you out in front of the class," Fraser said. "Others will take away Chromebook for the rest of the period or close your tab for you."
Some students, especially repeat offenders, are reported to the administration for Chromebook misuse, said Assistant Principal of Instruction and Student Services Irma Muñoz. Earlier this school year, Muñoz dealt with Chromebook-related discipline three to four times per week. Now, it is only once per week, if at all, she said.
"The more we familiarize ourselves with technology and the more it's embedded in our day-to-day class, the less students will wander into off-task behavior," Muñoz said.
The most common scenario is that a teacher assigns a task on the Chromebook in class and catches a student listening to music or playing games instead. Occasionally, students have been caught on inappropriate websites, such as websites promoting drug use, Muñoz said.
The discipline for Chromebook misuse is typically one or two detentions and a phone call home to parents. Muñoz said that students generally respond well to the first punishment and are not reported again. Repeat offenders might have their Chromebook confiscated for up to a week, Muñoz said.
"The more aware that [students] are of what teachers can see, the more they'll pay attention to it," said Fraser, who is a TA for Hill and works with her on Chromebook-related tasks. "They're less likely to get distracted because they're aware of the consequences."
Similarly, the Electronic Privacy Information Center (EPIC) calls for more transparency in school discipline based on students' technology use. EPIC is a nonprofit organization focused on directing public attention to privacy issues related to the First Amendment and human rights.
"Students should be able to challenge [disciplinary] decisions because of fairness and due process," said EPIC Student Privacy Project Director Khaliah Barnes.
Muñoz said that if a report of Chromebook misuse were challenged by a student, she could ask the technology department for information about the student's Chromebook use. However, that has not happened this year, she said.
PRIVACY
There is a false rumor circulating among students that teachers can see students through the Chromebook cameras.
"I don't think it's a big deal that everyone is freaking out about, but I do think that people know [about the rumor]," Adarkar said.
In response, students have put stickers and sticky notes on top of their Chromebook cameras.
"I know about the rumor, it is not true," Hill said. "There's no one peeking at you though the camera."
In the past, the Chromebooks had software could turn the camera on if the device was recorded stolen. However, that feature has been disabled by the software developer, Griffin said.
"I'm perfectly fine with that because it allows me to say to you guys, 'No, we can't see out of your camera,'" Griffin said.
As technology in the classroom has increased, schools have begun to gather and disclose more data about students, Barnes said.
"Schools have broad access to the information that students generate [on school-issued technology]," Barnes said. "There haven't been adequate privacy safeguards in place for student-generated content."
In PUSD, Griffin said the privacy of student data is really important. Recently, Google clarified its data mining practices in its apps for education. Because applications such as YouTube and Google Plus are not covered in the agreement, the district turned off the apps to protect student data, Griffin said.
California is a national leader in privacy policy, Barnes said. The state recently passed the Student Online Personal Information Protection Act (SOPIPA), which prohibits education technology companies from using student-generated information for advertising purposes.
To ensure compliance with SOPIPA, PUSD has been looking at the terms of use for online services it uses.
"We're making sure they comply with all the privacy laws," Griffin said. "We're making sure that we're not advocating using online services that aren't protecting student data."
Barnes said that another privacy issue is who has access to student-generated information.
"A lot of the information that students generate, schools will freely disclose to parents and, unfortunately, freely disclose to law enforcement without a warrant," Barnes said.
According to the PUSD Responsible Use Policy for Technology Resources, the district will "cooperate with the investigation of any legitimate law enforcement agency." The law enforcement agency must provide a warrant, superintendent Randall Booker said.
At the end of the day, Chromebooks are great tools, Hill said.
"They can add so much to teaching and learning in the classroom, but it's a messy process and we're figuring it out," Hill said. "Technology is not going away."