Community service hours now independently recorded
All community service hours will be tracked by students online via Track It Forward, a newly implemented program. The hours are due May 10th for use in PHS Honor Society and other calculations.
"Prior to this school year, students turned in hard copies of their community service hours with the supervisor's signature on the hard copies," Rexrode said. "As of this school year, they are entering it themselves online in a program that has been customized for PHS called Track It Forward."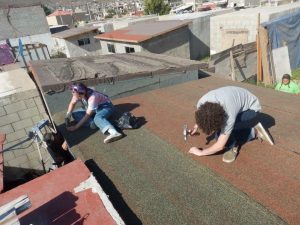 To log community service hours, students can visit the College and Career Center website to find a link to the Track It Forward website for PHS students.
To become a member of the PHS Honor Society includes students who have a 3.6 GPA and 15 hours their sophomore year, 25 hours their junior year and 35 hours their senior year.
There is also an alternate award for students with an exceptional number of hours. The Freshman Award requires 25 hours, the Sophomore Award requires 50 for the cumulative two years, the Junior Award requires 100 for all three years, and the Senior Award requires 200 for a student's entire high school career.
Sophomore Ellie Coleman is on track to join the Honor Society, with close to 100 hours already.
"[With the Piedmont Community Service Crew], we work with many other organizations like Clausen House, Rebuilding Together Oakland and, each week, tutor local kids who are either immigrants or refugees from Burma," Coleman said.
Coleman joined PCSC as a freshman because it allowed her to volunteer in areas she was interested in.
"I started community service work when I joined PCSC and went to a monthly meeting where I got wrapped up in leading events," Coleman said.
Coleman attended the Piedmont Community Church Mexico trip for her first time this year. The Mexico trip is enough hours each year for a student to enter the Honor Society.
Likewise, Junior Luke Eidam returned to Mexico for his third time.
"I started really doing community service freshman year for the Mexico trip," Eidam said. "The Mexico trip gave me a good opportunity to meet new people and it gives me a great feeling of accomplishment."