Chick and Tea
Where: 3932 Telegraph Ave
Price: $5.99 for a crispy chicken fillet
Order Ahead: (510) 923-6196
Hours: Mon–Sat, 11:00 a.m. to 8:00 p.m., Sun, 11:00 a.m. to 7:00 p.m.
There are two kinds of KFC on Telegraph: one, a greasy international fast food chain, the other, a sticky spicy bowl of Korean fried chicken. The latter kind of KFC is, dare we say, better — more specifically, fried twice to be extra crisp and grease-free, and typically coated in a spicy, tangy and slightly sweet sauce. At Bowl'd, a Korean bibimbop (rice bowl) and barbeque restaurant, you can choose between wings or an assortment of meaty parts, all covered with a choice of the aforementioned spicy sauce (recommended), soy sauce garlic glaze, barbeque sauce or nothing. The bowl of more-than-wings chicken is almost a meal for two, and comes with a side of organic salad for that semblance of healthiness. Also try the restaurant's specialty bibimbop (get the stone bowl for deliciously crusty rice at the bottom), the ahi poke and, for dessert, fish-shaped red bean and ice cream waffle sandwiches from the self-serve freezer by the door.     
Bowl'd
Where: 4869 Telegraph Ave
Price: $6.00 for a bowl of wings
Order Ahead: (510) 654-2000
Hours: Mon–Sun, 11:00 a.m. to 10:00 p.m.
Every night in Taiwan, young people stroll around night markets carrying bubble milk tea in one hand and a certain kind of fried chicken in the other. Taiwan is rather far for the average Piedmont student, but thankfully Chick and Tea can replicate the same experience, just a block away from MacArthur BART. Unfortunately, the bubble tea selection is on the small side, with bubbles on the chewy side and tea on the weak side. But the bubble tea is a mere side show for the main event: fried chicken cutlet, also called da ji pai, or as it's known here, G-Pie. The savoriness of the seasoning is akin to that of the common popcorn chicken, but it comes from a large pounded-out chicken fillet and a thicker, crunchier crust. Also make sure to get their sweet potato fries, they're thick and full of sugary sweet potato flavor. Anything that comes out of that glorious frier is bound to be good.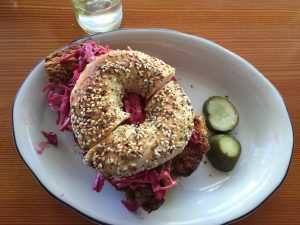 Beauty's Bagel Shop
Where: 3838 Telegraph Ave
Price: $9.00 for a fried chicken bagel
Order Ahead: (510) 788-6098
Hours: Tues–Fri, 7:00 a.m. to 3:00 p.m., Sat-Sun, 8:00 a.m. to 3:00 p.m.
Welcome to wood-fired Montreal-style Oakland hipster bagel land. The bagels are good, but more important is their fried chicken bagel sandwich. This is what would happen if a purple unicorn with bagels stacked around its horn blessed a Bakesale Betty's sandwich: a bagel, of your chosen flavor instead of boring bread, and a crisp coleslaw, dyed purple with the mixture of beets and something creamy, both perfectly complementing a thinly-crusted juicy piece of chicken. Thank you, purple bagel unicorn.