Men's JV and varsity golf swing into spring season
Staring out into the abyss of green, varsity golf team captain senior Cardell Mike lifts his golf club in preparation of his swing that will hopefully bolster their 7-4 record.
Mike said that everyone on the team is playing really hard and that their only losses so far have been to rivals Castro Valley, Berkeley, and Bishop O'dowd.
"It was definitely frustrating losing to our three rivals but we are still really proud of the way the season has gone so far," Mike said.
As a team captain he has various goals for the rest of the season, he said.
"A personal goal is that I want everyone on the team to get their score dropped by the end of the season," Mike said.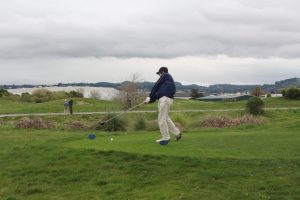 As a four year varsity player, Mike said he has seen a lot of improvement since last season from this year's sophomores, which has allowed the team to prosper.
"It feels good to see everyone pushing themselves to be at the level of greatness they should be at," Mike said.
Junior Sam Watters said that being on the JV golf team and being able to practice with varsity has been a great opportunity for him to improve.
"It's a nice break from the competitiveness of sports," Watters said.
Varsity player sophomore Quinn Willrich said that despite the team's ups and downs, they are doing very well.
"Our assistant coach just quit last week and there's an overall lack of organization as a team, but that being said, we've only had two losses this year and I've loved playing on the team."
Mike said that the players don't let the team's complications get in the way of the players' work ethic and determination.
"There's a lot of hungry people this year," Mike said. "A lot of people are determined to get their spot on varsity."
Mike said that apart from the competition, the best part of being on the team is the group of people and how much fun they have together.
"We take it seriously but we can be goofballs at times," Mike said.
Willrich said that the better he got, the more he enjoyed it.
"I always want to keep the fun part of golf alive, because it seems to get easily lost with competition," Willrich said.
Watters said that his goals for the rest of the season are to continue to play to his best ability and to improve his muscle memory, which is a crucial part of the sport because it involves completing the same action over and over again.
"Golf is probably the most important sport when it comes to muscle memory," Watters said. "You have to do everything the same way each time to get a good shot so we always emphasize that if you are available to come to practice you need to be at practice."