Badminton swings into fourth place at NCS tournament
Swinging and plunging to save the birdie, Piedmont's badminton team fought hard to secure their 4th place spot in the NCS tournament this season.
Although the team expected to place higher, they faced some unexpected adversity before and during the tournament, when they started to feel the pressure.
"We were in second place towards the middle of the tournament, but we just kind of lost our steam," said team captain junior Daniela Siu. "People started getting injuries and I watched them fall one by one."
Last year, when her team finished second, Siu noticed that her team was very well prepared for their competition.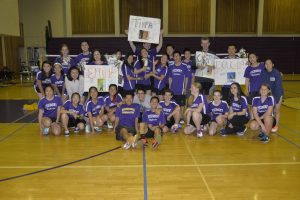 "After the tournament this year, a lot of people were talking about how little sleep they got or what they did the night before our games, which weren't very big issues last year," Siu said.
With her team down, Siu personally finished second in women's singles, however her success did not come easily.
"Last year I tore my ACL at a national tournament in Union City," she said. "Luckily I had surgery that week and started physical therapy almost immediately after, but I was out for quite a while."
Her father and coach, David Siu, said that Daniela set her recovery goal, and diligently focused on rehab to get ready for the 2016 season.
When she returned in mid January (from her surgery in early September),  she got the chance to help teach some of the freshmen, Daniela said.
"We had a lot of new freshmen on the team this year and it was pretty fun to get to teach them," Daniela said. "Their experience levels varied, but overall they were a great asset to our team."
While some came on to the team without ever playing the sport before, David said that everyone got the chance to improve over the course of the season.
"It was really great being a freshman with all of these experienced players," freshman Ella Lee said. "The coaches could be pretty serious sometimes, so our captains did a great job of keeping the mood light and fun, along with giving us some pointers."
Not only did captains and teammates create a fun atmosphere, but according to Daniela, an extremely supportive one as well.
"All my teammates really motivated me," Daniela said. "I couldn't be more proud of them stepping up against such good competition."