Location: inside Swan's Market, 907 Washington St
Average Price: $7.50
Order Ahead: (510) 251-1113
Hours: Monday–Saturday, 11:30 a.m. to 2:30 p.m., 5:00 p.m. to 10:00 p.m.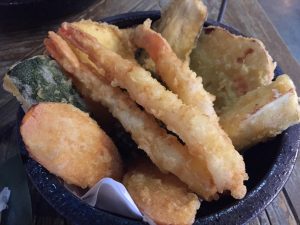 Once upon a time, B-Dama was on Piedmont Ave. Now, it's relocated, to Swan's Market, a gourmet food court in Old Oakland that's an 11-minute drive from campus.
In the spirit of an izakaya, essentially a Japanese gastropub, AS B-Dama serves casual and relatively cheap food in a laid-back setting. You grab your own napkins and hot tea and find one of the numerous tables with stools shared with other restaurants' patrons.
Try the traditional izakaya fare: tori karaage, a generous serving of juicy fried chicken with lemon for squeezing and curry salt for dipping, or agedashi tofu, smothered in savory bonito flakes. Ebi tempura comes with three tender shrimp, as well as pieces of carrot, sweet potato, eggplant, zucchini, and broccoli — all batter-fried to crispy goodness. Grilled meats are also typically served at izakayas, but, here, they ditch the skewers in favor of grilling fatty pork belly with miso and beef tongue (one of the daily specials).
In addition to this bounty of fried food and grilled meats, AS B-Dama shows its Californian side with its seasonal, high-quality ingredients that make up the ever-changing menu and unique salads, like tofu, seaweed and white sesame dressing, or daikon, perilla and ume plum dressing. Even the beef tongue comes topped with green onions, arugula, lemon and sesame oil. The raw fish offerings are all fresh — the salmon belly sushi was especially fatty and excellent.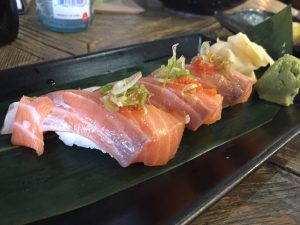 Every dish tasted balanced and refined, with no flavors getting too loud or messy. Unfortunately, for dishes like the zosui rice porridge or hari hari nabe, a hot pot of pork belly, clear noodles, veggies and tofu, this can come off as just bland. There are also clear exceptions: fried, garlicky brussel sprouts were an addictively salty, crunchy explosion, and the only dessert, a matcha affogato, was refreshing.
Regardless of any minor flaws, AS B-Dama definitely distinguishes itself from other Japanese restaurants serving cheaper sushi and teriyaki chicken closer to Piedmont: its food captures the seasonality and freshness that are essential to Japanese cuisine.