Lining up for the perfect season
Women's golf starts off the season with new coach, new JV team
Piedmont's women's golf team is looking down the fairway towards a successful season with a new head coach and added JV program.
Senior Virginia Tuan has been playing for the varsity team all four years of high school and said she has really noticed the program's growth.
"It's changed a lot," she said. "More and more people have gotten interested and started joining the team."
When Tuan was a freshman, there were only eight players (all on varsity) in the entire program. The sport has more than doubled in popularity since then, and now has enough golfers to field two teams of about ten players.
"Having a JV team will be really helpful," Tuan said. "The whole thing about JV is to introduce people to the sport and teach them how to play at a level where they can be on varsity the next year and maybe be one of the starting players."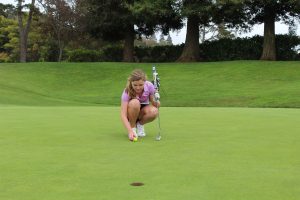 Varsity golfer, sophomore Sarah Ramsdell said the JV team also may lead to a little more competition and allow some players to play in matches while some just work on their game.
"For varsity, it's the people who take golf more seriously," Ramsdell said. "Then JV is for the people who are kind of starting off or don't know that much about it."
However, this year there was not much competition at tryouts regarding who made which team, Ramsdell said.
"Pretty much everyone who knew how to play golf made varsity," she said.
Along with a  JV team, the women's golf program also added several new coaches to its staff. Having more coaches makes practices more productive, Ramsdell said.
"Last year we'd kind of all be sent off to do stuff and nothing would really happen," she said. "We'd just sit down and talk."
One of the team's captains, senior Cerina Smit, said that the new coaching staff has helped lower everyone's scores.
"In the past, the most we had was people's dads coming in to help, but they're not coaches," Smit said. "Now we actually have professionals coming in and helping, which is awesome."
Among the new coaches is varsity head coach Jay McDaniel, a Professional Golf Association (PGA) professional at the Claremont Country club.
"He's definitely made some changes," Tuan said. "He's amping up our involvement with school and making practices harder."
McDaniel and the new captains, Smit, junior Minnie Cooper and senior Maxine McCarty, hope to create a bigger appearance on campus, Smit said.
"A lot of people don't know that we have a women's golf team," Smit said. "It'd be nice to make golf a bigger sport in Piedmont instead of just a sport to get PE credit for."
To become more prominent at school, one step the team is taking is purchasing "spirit wear" to wear on match days.
"[Spirit wear] is just about getting the idea into kids' minds to play golf," Tuan said.
Increasing the number of players coming out would help achieve some year-to-year consistency with success, which Tuan said the team has struggled with during her seasons.
"My junior year was basically a new program because some really key players graduated," she said.
But even with changing participation numbers, Tuan said that some aspects of the team dynamic remain the same.
"Every year the team is really close to each other, so [the spirit] hasn't changed much," Tuan said.