Spirit Week: Homecoming theme
On Oct. 4. during lunch senior class president Cade Becker, sophomore class vice president Emily Yu and ASB member, sophomore Shannon Landheer hand out free popsicles to students passing by in the quad.
The homecoming theme is Hollywood.
"Well we were between a few different themes and we ultimately decided that Hollywood was the best fit," Becker said. "This is because we had a general idea planned out for decorations and Hollywood stood out the most."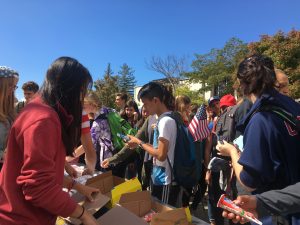 On the lawn in the quad homecoming court nominees played musical chairs led by ASB member, senior Halley Wolin and ASB Junior Vice President Shay Hempeck.
"For the homecoming games, I think it is a fun activity to branch out and to kind of get out of your comfort zone to get ready for homecoming week," said junior Bella Oglesby.
This year's theme definity opens up student more artistic and creative freedom, senior Nathan Cook said.
"The Hollywood theme is very open to different dresses and different things to wear out there," senior Polina Dorfman Su said. "It is not very restricting."