Cheer changes coaches and new members join
The cheer team decided to make a change by hiring a new head coach and making new additions to the cheer team.
This year, the cheer team got off to a rough start because many people decided not to come back to the team. This resulted in the cheer team missing the first football game, junior Maddie Lincoln said.
"This year we have mostly just been focusing on rebuilding the team," Lincoln said. "We started out with five people, and now we have eleven."
Freshman Ella Phillips said she joined the team not only to cheer, but also to meet new people. She is the newest addition to the cheer team.
"I love how nice and sweet the girls are," Phillips said. "I say 'hi' to them all the time and they help me with different things. They helped me get acclimated to the school as well."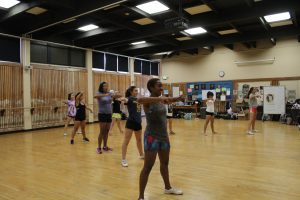 Team captain senior Shannon Yan has participated in cheer all four years of high school.
"I like being team captain," Yan said. "I want to make sure the team is as close and as fun as possible."
The new head coach of the cheer team, LoRay Davis, was part of the cheerleading team at Cesar Chavez High School in Stockton for three years. Davis then took her talent to UC Berkeley and cheered for the Cal Bears during the 2013-2014 season.
"The cheer season so far has been really great," Davis said. "We have been conditioning, doing team bonding, and preparing for Homecoming and the rallies."
It is important to understand that there is no 'I' in team, Davis said. She said that she wants the girls to really get to know each other.
Students have seen the cheer team at football games, basketball games, and rallies, but cheering is not all that the cheer team does. The cheerleaders also hold a Junior Cheer Camp every year and it is coming up in mid-Oct.
The cheer camp aims to help kids with their cheering skills with an age range from 5-13, Lincoln said.
They learn a couple of cheers, and get a chance to cheer alongside the cheer team for the first half of the homecoming game, Lincoln said.
Phillips said she is excited to work at Junior Cheer Camp this upcoming Oct.
"I was a part of Junior Cheer camp when I was in third grade," Phillips said.
Davis said she hopes to hold a banquet at the end of the year.
"We would also like to hold a fundraiser this year," Davis said.