Piedmont hires new athletic trainer
His office would be more accurately described as a workshop. Not a workshop for machines, but a workshop for people. Tucked into the corner of the room is a treatment table, upon which rests an injured athlete. Ice packs, bandages and gauze pads surround the trainer massaging the athlete's knee. Meet Eddy Rodriguez, the new athletic trainer.
Since the start of the athletic year, Rodriguez has been helping Piedmont athletes prevent and recover from injuries. The athletic trainer position opened up when Timothy Harkins, the past trainer, left to pursue a Master's degree.
Rodriguez said he became interested in working as an athletic trainer because he was interested in anatomy and had sustained multiple injuries during his high school soccer career.
"Working with physical therapists and then learning about how the body functions, and what it's capable of doing, that just kind of spiked my interest," Rodriguez said.
Athletic trainers are trained to deal with all injuries to varying degrees. Rodriguez said members of his profession are similar to responders: in some cases, he could even be required to administer emergency medical services, including CPR and defibrillation. Small injuries can be treated on site, while more serious injuries may require transportation to a hospital.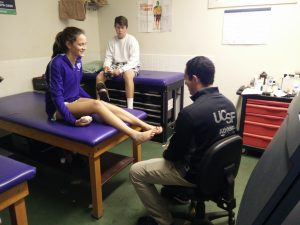 "I haven't had to deal with anything too crazy yet, and hopefully I don't have to," Rodriguez said.
Rodriguez said that the injuries he deals with depend on the season. In the fall, most injuries come from football.
"Most commonly we see a lot sprains and strains in people's ankles and knees," he said. "We see a lot concussions as well, just because of the impact. Football definitely has the potential to have some bad injuries."
However, that changes during the other two seasons. Rodriguez said that during the winter and spring, basketball, baseball, and soccer are typically the biggest culprits; but because he has not worked a winter or spring season for Piedmont, he does not know for sure how those seasons will turn out. For one, there are some sports Piedmont offers that he has never dealt with.
"I've never had the privilege to work with lacrosse," he said. "It'll be interesting to see how many injuries come out of that."
One athlete already being treated by Rodriguez is senior Jacob Watson, who is following a program set up by Rodriguez to recover from an injury to his meniscus and labrum from football.
"Eddy sets up a program. He makes sure you're icing to get the swelling down. In terms of the program, he gets you started step by step, and really works you back into playing shape," Watson said. "He's always taking care of you, making sure that the injury doesn't reoccur and get worse."
When sophomore Rex Peters hurt his knee, he said it was Rodriguez who suggested that he might have torn his meniscus.
"Eddy knows his stuff. He diagnosed my injury correctly. I had an MRI and it turned out he was right," Peters said.