Healthy relationships assembly: student reactions
Al Vernacchio, gave a lecture about healthy relationships to the student body in the Alan Harvey Theatre on Oct. 17.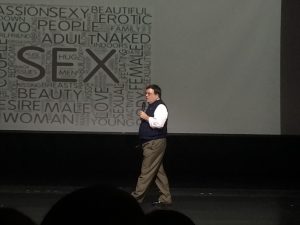 "Al was pretty funny and did a good job of explaining sexuality in a straightforward manner, which is a trait many Americans lack when alluding to sexual activity," junior William Reicher said.
"The healthy relationships assembly today I thought was insanely good and insanely informational and the way the information was presented was easy for the general high school student to understand and relate to," sophomore Noah Patton said.
"I thought the assembly was really interesting and I enjoyed his pizza analogy," junior Shannon Murphy said.
"I really liked how he was super friendly and made talking about healthy relationships a lot less awkward," freshman Ari Auslin said.
"I thought it was a really important thing to have because we have the consent assembly which kind of scares people away from relationships and this assembly really helps people to understand that relationships can be healthy and it is possible for things to work out," senior Bryn Lawson said.
"I thought the healthy relationships assembly was a great insight for me because I never knew what the pizza was when it was referring to healthy sexuality and I sort of got a better understanding of the baseball model was when you compare it to healthy sexuality and I sort of felt like I could be more comfortable with the person that I am right now," junior Philip Horn said.