Ellen Walsh joins the Speech and Debate team as co-coach
The Speech and Debate team decided to implement some changes this year by appointing new English teacher, Ellen Walsh, to become a coach. Walsh will be joining parent, coach Carlton Chan to help out the team.
When Walsh is not in the classroom with her students, she is helping out the PHS Speech and Debate team.
"[Piedmont High School] was looking for a full-time staff member to be the coach, and since it's my first year here I figured it would be a fun way to get involved," Walsh said.
Walsh said she was not involved in debate when she was younger because her school did not have a debate team; however, she thinks it is important for students to have the opportunity to learn debate.
"[Debate] really is skills you learn in English class, but to be able to verbally communicate is a whole different skill," Walsh said. "And to be able to convince someone that something is really important."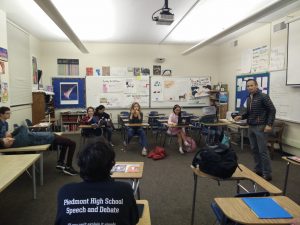 Chan's son Joseph graduated three years ago, said the team's publicity coordinator, junior Will Reicher.
Chan said he wants to see the team gain enough traction to stay a part of PHS before he leaves the team to Walsh.
"I think it was a really great inclusion to add Ms. Walsh to the team,"  Reicher said. "Now that we have a teacher helping the team, and no less an English teacher, I think it will really improve our argumentation."
Chan said once he leaves, Walsh will be the head coach of the Speech and Debate team.
"I really like having Ms. Walsh around," said Speech and Debate team president, senior Veronica Wong. "She is hilarious and smart, and I think she is learning really quickly what to do as debate coach."
The Speech and Debate team meets after school on Tuesdays and Wednesdays this year.
"The kids are really great and enthusiastic," Walsh said. "They want to be there because they meet after school, so it's fun to see them."
The team participates in both speech and debate tournaments, Wong said.
"We focus alot on public speaking and teamwork," Wong said. "We also want to be aware of the world around us."
The Speech and Debate team participates in two different types of debate competitions: Public Forum and Student Congress.
"Public Forum is a two-on-two student debate," Reicher said. "Student congress consists of 15-20 other students that debate over a certain bill that is given to them."
The Speech and Debate team participated in a public forum tournament in Santa Rosa on Oct. 8. Three PHS Debate pairs had a 2-1 record or better. That means six PHS Speech and Debate team mates won their debate at the event. Those records were all eligible for awards.
The Speech and Debate team is also focusing on rebuilding its program, since it has just been revitalized in the past few years, Reicher said.
"We are trying to see if we can get [the Speech and Debate team] going for real this time and make it as successful as it was in its previous years," Reicher said.