Hood reaches Musical.ly fame
"Aren't you that girl from Musical.ly?"
This is a common question that freshman Chloe Hood is greeted with.
Hood filmed her first video for Musical.ly,  an application where people post clips of dances using hand movements to songs, in eighth grade and has since reached 26 thousand followers, Hood said
Hood said she heard about Musical.ly in the middle of eighth grade and wanted to try it out.
"A lot of people in other grades have kind of reached out to me which has allowed me to meet and become friends with a wider range of people," Hood said.
Hood said that her popularity began to rise meteorically when a famous Instagram account posted one of her Musical.ly videos.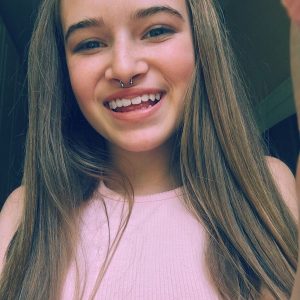 "I started getting more and more followers which prompted me to post more videos," Hood said.
Still, she always tries to make sure each of her videos is high quality, she said.
"I try to have nicely lighted, smooth videos," Hood said. "It usually takes about ten takes to get it right."
Hood said the process of creating the Musical.lys are generally the same each time.
"Usually I listen to a song and think of what kind of hand movements I can do with the words that would express the lyrics of the song in the best way possible," Hood said.
Hood and her friend, freshman Q Henry, said that the Musical.lys are often made in a lighthearted, joking way.
"I've been in Musical.lys with Chloe before," Q said. "We were kind of posting it in a joking way and weren't too serious about it, which is what made it fun."
Freshman Julia Prager, who has been friends with Hood since sixth grade, said she has noticed a change in the way people treat Hood.
"When people see her they often do the dance she made up," Prager said.
Prager said Hood has different ways of reacting to people recognizing her, but is generally comfortable with the attention.
"She often laughs it off, but sometimes she definitely does get annoyed," Prager said.
Henry said that Hood's fame does not change who she is as a person.
"It doesn't change her character, it's just something cool that she does," Henry said.
Hood said that as of recently she is getting less consistent with filming and uploading videos.
"It was kind of a phase so I've just started getting sort of bored with it," Hood said.
Hood also said that the talk centered around her and her videos was starting to make her uncomfortable.
"A lot of people started talking about it in the other grades and I was kind of embarrassed," Hood said.
She will continue to make new videos every once in awhile, Hood said.
"I'll probably keep making Musical.lys and keep the account up I just won't focus on it as much," Hood said.