Squeezed in at the corner of Lakeshore and Mandana, Main Squeeze can easily be passed by on your way to Arizmendi's, Noah's or Chipotle. This tiny shop makes up for its lack of size with the abundance of color and nutrition present in their acai bowls, juices and smoothies.
Greeting you when you walk through the door is a giant blackboard with rainbow titles of acai bowls, juices and smoothies. The options include dessert bowls with acai, banana, blueberry and raspberries; smoothies like the Carmen Miranda with pineapple, coconut water and mango; and juices, such as Quite the Pear with pear, kale, cucumber and ginger. Still not satisfied? Add a pinch of chia seeds or cacao powder to enhance your order for 65 cents each. Eating healthy never looked better!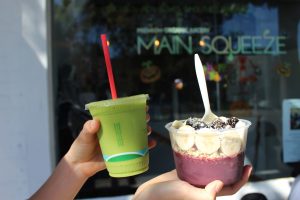 The food is ready to go fairly quickly, considering that they blend and press all the ingredients right in front of you. However, the only place to sit and enjoy the meal is the one wooden bench in front of the store, which might be an inconvenience to the foodies who need a nice setting to take their food pic. No matter what you get, all the fruit is top-notch and fresh. The acai bowl, artfully decorated with fruit and granola, is definitely the most Snapchat worthy. Although the base of the bowl is a little bland and watery, the granola and large quantity of chopped fruits add a satisfyingly sweet yet tart flavor. Main Squeeze's smoothies are the most refreshing, the perfect blend of fruity and tangy. There are plenty of green options to choose from and you can even add kale to a fruit smoothies like the Carmen Miranda, which was recommended by an employee. If you are really into freshly squeezed juice, you might enjoy the variety Main Squeeze offers. However, they can be a hit or miss depending on the flavor combination.
Main Squeeze is a good place to go after running the lake or exercising, but probably not the place if you are looking to feel satisfied. If you are an early bird who likes to get their exercise done right away, you are out of luck for this shop does not open until 9 a.m. The bowls, juices and smoothies are also refreshing and cleansing for a hot day. Items are a little pricey, but if you are looking for a place to satiate your kale-fix or want a hip Instagram post, Main Squeeze is an easy place to go to.