Alexander Parisi: 5,000 miles from home and loving it
From the sandy shores of Lac Como, Italy, junior Alex Parisi arrived at the foggy city of San Francisco in August of this year.
He moved to Piedmont with his mom and older sister, who is now attending college in San Diego.
Parisi was born and raised on hand-crafted pasta and "football" in the lake-centered city of Lac Como, Italy. Parisi said that his life in Piedmont and his life in Italy are significantly different, but living here is similar to his expectations.
"Even just the structure of the school and how the people are here—people are a lot more friendly here," Alexander said.
During previous summers, Parisi  had vacationed in California with his family so he was fairly accustomed to the sites here in the Bay Area. One difference that did surprise him was how differently the schools are run, Parisi said.
"The whole concept of school there is pretty different," Parisi said. "The schools in Italy are usually a lot more difficult in the sense that we have a lot of studying and there is less actual working."
Parisi's mother Cheryl Parisi said the schools in Italy are very good and academically rigorous.
"But they're not very personal in that they don't cater to an individual's personal needs," Cheryl said.
Alexander said that schools in Italy are centered around academics and lack sports teams and school spirit: school characteristics that seem to be important to students here. While Alexander said he did not participate in school sports in Italy since there were none, he would often go to the local tennis club and play recreational football—or soccer for Americans—with his friends.
"The thing I miss the most is all of my friends. I wish that they could all come and live here, even though that is not possible," Parisi said.
Luckily, Parisi said he has summers to look forward to, when he goes back to Italy to see his father and old friends.
In the past, Alexander and his family would  have lunch with family friends in the nearby mountains or parks and these outings were always very memorable, Cheryl said.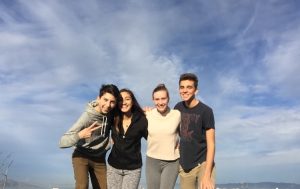 "In Italy, our lifestyle was a little different, in that our social activities often gravitated around the group of friends that the parents had," Cheryl said.  "We had a small, but close knit group of friends."
While Alex does miss Italy, he said that he was surprised by how at home he feels here and how much he enjoys spending time with friends here even though they are somewhat different from his friends in Italy.
"A lot of people ask me where I prefer living, and right now I really like my life here, so I think I'd be pretty happy staying here," Alex said. "It kind of surprised me though because you can find people on the other side of the world and they are the same in a lot of ways."
Alex's friend, junior Lian Call said that she too was surprised by how easy it was to relate to Alex.
"My initial impression between the difference in his life there versus here is not as drastic as I imagined," Call said. "I used to think that there was so much more to do in the Bay Area, but really his town [in Italy] seems pretty fun."
Call said that contrary to Alex's belief that people give off a more relaxed vibe in California than in Italy, as a born-bred Italian, he is just as laid back and easy to talk to.
"He just makes the people around him 'go with the flow' while still being very upfront," Call said.