Anne Aldridge-Peacock still changing lives, 2o years later
Gathered around a table, a dozen or so teenage faces desperately turn toward her. Fixated upon this woman as if she were their saving grace, these homeless and pregnant teenagers roam the streets of Washington D.C. with few options, relying heavily upon volunteers like Anne Aldridge-Peacock to help them. Flash forward a couple of decades to the other side of the country and one can still find current social psychology teacher Aldridge-Peacock affecting the lives of teenagers in a different way.
After working with homeless youth in Washington D.C. and Chicago, Aldridge-Peacock said she understood the root cause of many of these teenagers' problems.
"Some of the life choices the [homeless teenagers] had made by the time they were 16 or 17 had greatly impacted the trajectory of their lives," Aldridge-Peacock said. "The way to deal with this, or one of the ways to deal with this is through education and particularly through education about healthy life choices."
As a result of her work with the homeless teenagers, Aldridge-Peacock's trajectory in life was greatly impacted. Aldridge-Peacock said that she became interested in becoming a teacher to prevent such situations from arising.
"I found this teaching position in Alexandria where they actually had a year long class that focused on human growth and development from birth through death, so it was pretty amazing," Aldridge-Peacock said.
While Aldridge-Peacock majored in history in college, her interactions with homeless teenagers left her with the feeling that it would be more relevant and interesting to teach social psychology, Aldridge-Peacock said.
"One of the things it does is it informs the way that I look at issues of class and race and gender and sexuality and also thinking about the agency that we each have in our own lives," Aldridge-Peacock said.
After working at a high school in Alexandria, Virginia for five or six years, Aldridge-Peacock continued her teaching career by moving west and getting a job at Berkeley High School.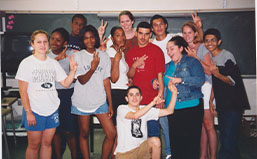 Both of the schools Aldridge-Peacock taught at prior to coming to Piedmont had a more diverse student body, both socioeconomically and racially.  This presented a number of key differences in situations students faced at these different schools, Aldridge-Peacock said.
"One of the challenges I often times think of for students here [at PHS] is to figure out how to express their individuality at a place that is really small,'" Aldridge-Peacock said.
Feminism club president senior Natalie Stollman, said that her initial interest in feminism was inspired by Aldridge-Peacock. Without Aldridge-Peacock, she would not be as involved in feminism club as she is today, Stollman said.
"I think [Aldridge-Peacock] also does a good job of just spreading awareness of women's issues on campus," Stollman said.
The size and diversity of the school also affects how Aldridge-Peacock teaches in her classes. In a larger school with more diversity, there are more voices in the classroom who can speak from their own experience to present a different perspective, whereas in Piedmont the teacher must present these perspectives, Aldridge-Peacock said.
"A challenge for me is to introduce different voices, and to some extent using voices from the online community can do that, where it is people expressing for themselves their reality," Aldridge-Peacock said.
Stollman said she picked up on how much effort Aldridge-Peacock puts into broadening her student's perspectives.
"I think [Aldridge-Peacock] does a great job of bringing voices into the classroom that are not always heard in Piedmont," Stollman said.
In her mission to introduce different voices to students, Aldridge-Peacock was one of the first people to think to bring Al Vernacchio to talk to students in the Healthy Relationships Assembly.
At a workshop in the spring, a parent proposed the idea of having a more positive assembly regarding relationships delivered to students to complement the consent assembly, formerly known as the "date rape assembly," Aldridge-Peacock said.
"That coincided with another parent talking about bringing Al Vernacchio to talk with the parent community, and she and I talked about whether it would be possible to set up an assembly for students," Aldridge-Peacock said.
In terms of social psychology beyond the assembly, Aldridge-Peacock said she hopes that students can take the reins and hold thoughtful conversations with one another.   
"With teaching social psychology I really want to move it into a much more student driven, discussion based class," Aldridge-Peacock said.
Stollman said she appreciated how social psychology's curriculum was based upon topics that were generally ignored by other classes, and avoided by other students.
"I also liked how comfortable [Aldridge-Peacock] was sure to make everybody feel while still getting to the issues and talking about what was important," Stollman said.
In the aftermath of Nov.'s election, Aldridge-Peacock said she sees a need for the social psychology skills.
"One of the things that we as a country really need are people who can disagree with each other and talk about why they disagree without resorting to thinking that the other person is stupid," Aldridge-Peacock said.
Aldridge-Peacock is someone who is always looking to become an advocate for change whenever she hears of a problem, junior Maya Guzdar said.
"[Aldridge-Peacock] is just a really good force to have at Piedmont," Guzdar said.