Cold hard cash: money doesn't grow on trees
$atisfaction rises within as you approach the shop counter with a fresh pair of sneakers boxed and tucked under your arm. Focus becomes difficult as you imagine the joy of fitting the shoes on and lacing them up for the first time. Those long hours spent mowing the lawn, doing the dishes or working at your local convenience store have paid off.
Students use money for a variety of things, ranging from leisure and eating lunch with friends to paying for clothes and sports equipment, senior Willy Matsuno said.
Every student has varying levels of responsibility when it comes to paying for whatever it is they may need. How they pay, who pays and for what, is different depending on the financial situation, Matsuno said.
"I really started buying things on my own when I was in middle school," Matsuno said. "I would spend my weekly allowance on food from Mulberries, things like that."
Matsuno also said that his parents were reluctant to give him money at first, making him do chores to receive a small weekly amount.
"When I got to high school my parents started giving me an allotment of money monthly and I became responsible for paying for most things in my life," Matsuno said. "Something like sports equipment that your parents might normally pay for became something I would have to pay for."
Matsuno said that under this system, his parents give him the money he needs, while he also learns the importance of saving and responsibility when it comes to spending money.
"It's important for students, especially those who are high school age, to establish responsibility when it comes to money," said author and former professor at Cornell University Christine Schelhas-Miller. "In order for this to happen, parents have to make their expectations with their students clear."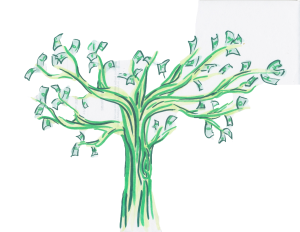 Schelhas-Miller, who co-authored "Don't Tell Me What do Just Send Money," a book about parent relationships with their children as students, said she believes that setting up a monthly allowance system is a step parents can take to help their kids develop responsible spending habits.
"When this system is in place, you're giving the kid the freedom to make their own decisions," Schelhas-Miller said. "If they screw up, they are going to have to deal with the consequences."
Schelhas-Miller also said that in addition to setting up a good system, parents should also lead by example.
"The parent should model a good management of money so the kid has something to learn from," Schelhas-Miller said.
Though high school students do not listen to or follow their parents at times, with a good system and a good model in place, it becomes much easier for students to learn financial responsibility, Schelhas-Miller said.
"It depends on the kid, but I would say that a lot of parents trust their high school aged student with money and trust that they know how to save it," junior Claire DeVroede said.
DeVroede said that she started paying for small recreational things when she started getting money from babysitting and when she does ask her parents for money, she tells them honestly what it is for.
"My parents would definitely pay for the bigger things, like if I were to go on the [PCC] Mexico trip they wouldn't ask me to pay half or anything like that," DeVroede said.
What a high school student should pay for, and the level of financial responsibility they should have, differs from family to family, Schelhas-Miller said.
"Jobs are a great way for students to develop financial independence and gives them a chance to say 'Wow I made my own money and now I have to watch how I spend it,'" Schelhas-Miller said. "Then they will really develop a sense of responsibility."
Instead of going home and hitting the books, many PHS students can be found working jobs all over the East Bay. According to the U.S. Census, one in four high school students holds a regular job, or 3 million teenagers nationwide. Many argue that student employment affects students' personal, social and academic lives.
"I had no time to do homework, so I was up until like 1 a.m. doing it," junior Morgan Shelly said.
Shelly works at Jules Thin Crust, a pizzeria on College Avenue in Oakland. Twenty-five percent of employed high school students work in the foodservice industry, according to the National Center for Education Statistics.
"It's a really fun job, it was a really great first job, but it started to become something I dreaded because closing shifts were difficult, and the fact that I got home really late," said Shelly, who is currently taking a break from working until she has more free time during summer.
For the students who do work, the money may be flowing, but the grades are dropping, according to a study from the Bureau of Labor Statistics. This study found that students who held a job in high school worked 49 minutes less on homework each night. That scoop of ice cream, or scrub of the dishes, could cost students their grades, which could, in the long run, result in more student debt from college and beyond.
Senior Katy Savage, who works at J. Miller Flowers and Gifts on Piedmont Avenue, has had a positive experience working in high school and recommends students experience part-time employment.
"If you can manage it, then it teaches you a lot of life skills and it will help you a lot in college because you'll already have experience," Savage said. "And it just teaches you how to work hard."
Educational psychologist Sabina Kleitman disagrees with any beneficial aspects of working in high school. Kleitman did a study on the role of employment in academic and non-academic achievement and found that 65 percent of high school seniors faced negative outcomes in achievement, coursework selection, educational and occupational aspirations and college attendance by having a job during the school year.
"Research indicated that working during summer holidays was not detrimental for academic and non-academic achievement, but working during the school year was," Kleitman said.
Since the stress of high school is apparent, Shelly said her employers were easy on her and flexible, understanding that she was an exhausted, busy teenager. The pros outweighed the cons, and having a steady increase in cash made it that much more motivating, Shelly said.
"It's really nice having money, especially during Christmas," Shelly said.
Junior Mason Barnes works at Mulberry's Market three times a week, and said that although he does not enjoy the work, it is nice having pocket money.
"I only really got a job because of the money," Barnes said.
Although Barnes works regularly, he does not suggest that other students get a job if their schedule is too busy.
"It's a lot of extra stuff after school if you have stuff to do; it's hard to balance things," Barnes said.
RiDE Oakland, a stationary cycling studio on Piedmont Avenue, has employed many high schoolers. Currently, they have three teenagers working.
RiDE hires many high schoolers to be 'studio assistants,' who greet clients, answer phone calls and clean the studio, co-owner Deb Collard said.
"Teenagers seem excited to work and are eager to learn," Collard said. "They are 'sponges,' pick up things quickly for the most part and are hard workers."
On the negative side, some of the teenagers they hire have lacked the confidence needed to deal with more insistent customers, and they get rattled easily when it comes to problem solving in new situations, Collard said.
"I think working has given many of our teens increased self esteem; they feel good about accomplishing tasks and doing good work, even if it is just being friendly to a client or folding a stack of towels," Collard said. "They also learn time management and how to multi-task in an environment other than their home or school."
RiDE Oakland will continue to hire teenagers in the future, and they look for hardworking, responsible and curious teenagers, Collard said.
Overall, Shelly, Savage and Barnes agree that the positives outweigh the negatives. Learning a strong work ethic and making your own money can prove valuable for the future. Although Kleitman would disagree, these students do not regret the hours they devote to their jobs.
"It's a good experience to learn about hard work and making your own money," Barnes said.