Piedmont schools adopt Next Generation Science Standards
PUSD's science department is currently in the process of adopting the Next Generation Science Standards (NGSS), a state-led effort to improve students' understanding of science concepts.
Physics teacher Glen Melnik and the other PHS science teachers are in the process of creating new curricula that will meet these standards.
"[The standards are a] shift from regurgitating science facts to actually thinking through problems and providing evidence," Melnik said.
According to the California Department of Education, the standards in California have not been updated since 1998 and as a result, they do not cover recent scientific advancements. In addition, students must be well prepared for the science and technology-based economy of California.
Biology teacher Shelley Seto-Rosen, who has been working alongside Melnik to implement the NGSS, said that the standards are important because they will lead students to a deeper understanding and the ability to analyze.
A large facet of the new standards is Three Dimensional Learning. This model includes science and engineering practices, crosscutting concepts or core concepts that apply to any science course and disciplinary core ideas which entail four criteria for science instruction to meet, according to the NGSS website.
"[The NGSS will] give students more of an opportunity to practice science as a scientist would," Seto-Rosen said.
This includes the increase of authentic labs where there is no right or wrong answer, but instead one where the teachers will let the students explore whatever result they get, Seto-Rosen said.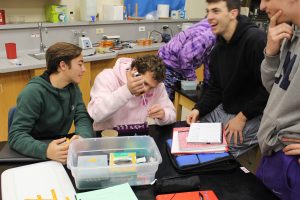 Melnik also hopes to include this idea of discovery into his teaching style as a whole.
"In the future I'm going to give data and then students will have the put those relationships together and come up with the equations themselves," Melnik said.
Senior Shannon Baack has taken six science classes at PHS and said that some teachers spend more time on notes and lectures while others allow more time for practicing and applying what they teach.
"In general having fewer lectures and more hands on activities would be better," Baack said. "Labs and practical applications like looking at nearby trees for [AP environmental science] are helpful to see what you are learning and how it actually works."
With a goal to create a curriculum that stresses the importance of real world applications, the writing process of the standards began in 2011 and was completed in 2013, according to the NGSS website.
The California State Board of Education officially adopted the standards in Sept. 2013, according to the California Department of Education website.
Because PUSD is under the umbrella of California's jurisdiction, the district must implement the standards, but it is up to the faculty and administrators to determine how to do so, Seto-Rosen said.
"It's a really good shift particularly with the internet because we already have all the knowledge in our pockets," Melnik said. "[The standards focus on] how to use that knowledge and apply it to different situations."
The U.S.'s rankings in science and math standards were much lower than other countries, which prompted the fundamental altering of the way science is taught, according to the NGSS website.
Fifty-four percent of high school graduates did not meet the ACT's college readiness standard in math and 69 percent did not meet the readiness standard levels in science, according to the NGSS website.
At PHS the standards will take two to three years to implement into all the science courses and it will be a process of constant revision, Melnik said.
With the recent passing of Measure H1, a bond that will implement a new facilities master plan, a new STEAM building is soon to come along with new science equipment  and an engineering classroom, which will allow students to practice science at a higher level, Seto-Rosen said.
With substantial changes come challenges and the need to adapt.
A huge part of the new standards is the requirement to teach earth sciences, which PHS does not currently do, Seto-Rosen said.
Seto-Rosen also said that the standards provide teachers with a vague idea of a concept and then the examples taught are up to the teachers.
"I've reached a place with my course where I'm able to prepare my students for college physics classes," Melnik said. "I don't want to change my course so that I'm not preparing students and I don't want to take the math component away so that will be my challenge."
Similar standards are being adopted in graduate schools as well, Melnik said.
"The shift has been made where the graduate schools are not necessarily looking for the highest GPA, they're looking for thinkers," Melnik said. "The whole purpose of these new standards is to develop thinkers."