English teachers strive to diversify reading curriculum
Shakespeare, Hemingway, Fitzgerald, Steinbeck­­—we all know the drill. Our parents, and maybe even our parent's parents, have likely read the same books that are commonly required reads in high schools nationwide today. However, as times change, teachers are trying to incorporate more literature that is more contemporary, or at least provides a fresh perspective of the world.
The English department is discussing ways to incorporate a more diverse range of authors into the grade-level reading assignments. Rather than using the same books every year, which are primarily written by white men, the teachers are gathering ideas for books that incorporate more Chicano, Asian-American and LGBTQ voices, said freshman and junior English teacher Matthew Klein.
Klein said that the first thing that the English department discussed when he arrived was diversifying the literature throughout all of the English classes at PHS. He said that it is an ongoing discussion that he believes will result in action, once logistics and budget situations are worked out.
"We need to get our students to understand that even though we are reading, say, a book written by an African American woman, that doesn't mean that she is speaking for all African American women," Klein said.
That being said, Klein said that providing students with a more diverse reading list will allow them to grow as people.
Freshman and sophomore English teacher Ellen Walsh said that feedback from parents and students has frequently included requests for a larger variety of authors. That was further encouragement for the English Department to really try to implement more authors, with various backgrounds, into the curriculum.
"I think students want to read about topics that are still relevant today, with regards to the question of how, we as a nation, can better deal with making sure that eve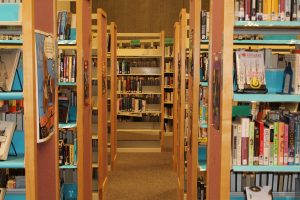 ry group is represented and respected equally," Klein said.
Starting in the 1960s, education systems, namely on the university level, have been better about implementing literature that deviates from the traditional Western canon literature; however, this progress has yet to trickle down to the K-12 education level, Klein said.
"The reality is, research shows that the more diverse an atmosphere is, the more everyone benefits," Klein said. "And I think a lot of students recognize and understand that."
Although teaching the traditional high school literature is simpler since there are already class sets, class outlines and many students and parents are already familiar with the books, the English teachers seem to be in agreement that diversifying the literature is a good idea.
As there are only a limited number of books that any given English class can read in a school year, the goal is to teach students books with specific themes that can prepare them for their future endeavors in English. Foster said that in the past, the tendency has been to use classical literature for this purpose.
Foster said that in past years, the English department has had a lot of discussion about implementing newer or more diversified literature that covers more world views but this year, they really wanted to start taking action. To kick it all off, Foster has decided to have her seniors read "The Namesake" by Jhumpa Lahiri, a novel written in the 21st century that includes themes about identity, more specifically looking at being an immigrant in America.
"['The Namesake'] is something that I think thematically connects and contributes greatly to my overall curriculum," Foster said. "I think some of my students may connect, in ways, to this book that they don't necessarily connect to the other books that we read in this class."
Foster said that reading fiction is a primary way in which humans can build sympathy—by understanding other cultures and experiences.
"It's our responsibility, as language arts teachers, as humanities teachers, to educate our students and expose them to as many different voices as we can," Foster said.