Spanish classes donate time and bracelets to charity
Beaded bracelets. In most people's lives they are trinkets, souvenirs to be bought and never worn or small gifts from friends. However, to the Spanish III classes and to the organization they aided for their final exam, Casa Materna, these bracelets mean a lot more.
In lieu of a written final, Spanish teachers Christelle Hutin Lee and Joanne Guillén had their Spanish III students make paper beaded bracelets, and plan to sell them to fellow students to benefit the non-profit organization: Casa Materna. This organization focuses on giving prenatal and postnatal care to pregnant women in Matagalpa, Nicaragua in order to reduce infant mortality rates.
Making and selling beaded bracelets is a common way for women to earn money for their families in Nicaragua, so making them as part of their final was a good way for students to learn about the region they were researching, Hutin Lee said.
"I love the way everything fell into place, that we were studying Central America, that we had been in Central America last summer, and that we could put it all together," Guillén said.
The students were also tasked with writing a letter to either a staff member or an expecting mother at Casa Materna, which was the graded portion of the final.
"What we asked [the students] to do, was to connect," Hutin Lee said. "Our goal was to facilitate connection between the Piedmont community and the community in Nicaragua."
Students talked a bit about their own lives; those writing to a staff member praised them for their hard work, and those writing to a mother connected with them, showing empathy for their situation, Hutin Lee said.
"We got to see all the people on their website. Some of the mothers there are 14 or 15 years old, and when you think about that, it's really crazy," Spanish III student freshman Josie Gross-Whitaker said.
Writing to someone who will actually read their letter adds to the experience, Guillén said.
"Knowing that someone is actually going to read [the letters] is exciting because we could get a response," Guillén said. "Knowing that you're writing with purpose is meani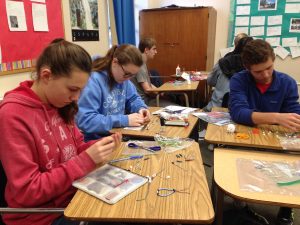 ngful."
Guillén and Hutin Lee first learned about the organization when they visited Nicaragua with their students last year.
"[Guillén] came up with the idea of the project, it's her baby," Hutin Lee said.
This is the Spanish teacher's first time assigning this project. The teachers are unsure whether they will continue with the same organization as they have not yet finalized plans for next semester.
"What we are planning on doing is facilitating more projects like this, that have a service learning component," Hutin Lee said.
However, both Spanish teachers said that the next semester final will probably have a service learning component similar to this semester's.
"As a Spanish teacher I'm always trying to find ways to make Spanish learning relevant, significant, and useful," Guillén said. "My goal is for my students to have these experiences. It's not just about learning the language, it's about learning the culture as well."
Students enjoyed the change in pace of this final in comparison to a written one, Gross-Whitaker said.
"We're going to remember this experience more than if we'd just taken a test," Gross-Whitaker said.