Orenstein and Voice Cooperative team up to educate community
"Can there be true equality in the classroom and the boardroom if there isn't in the bedroom?" author Peggy Orenstein said in her bestselling book, Girls and Sex.
On Feb. 14, Orenstein, a Voice Cooperative guest, shared her philosophies on love, sex and everything in between with the hope of fostering discussion among students. Voice Cooperative is a student-led club that brings in speakers, hoping to educate students and provide a diversity of perspectives.
"I wanted to open those doors, break those taboos and say some of those words out loud," Orenstein said. "This takes away the stigma or fear around those words and people start to talk more openly about [sex and love]."
Co-president of Voice Cooperative, junior Maya Guzdar said that sex, body image and gender roles need to be discussed and Orenstein's event allowed for students to experience a different point of view on these issues.
"Piedmont prides itself on being very progressive and educated," Guzdar said. "However, when you talk to confident girls about their sexual experiences, they become passive and confused. There is a huge disconnect there."
When Orenstein began to write "Girls and Sex," she said the conversations about consent were very present.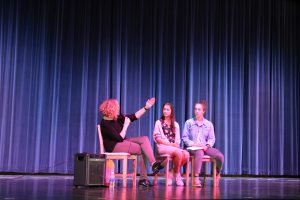 "I wanted to know what happened after 'yes'," Orenstein said. "I wanted to know whether girls have more control over their experiences than when I was young and what stigmas are still present."
A concept Orenstein stressed in her book was intimate justice: the idea that sex has political implications as well as personal ones.
"Sex brings up issues around inequality, violence, mental health, who gets to engage, who is the primary beneficiary, hook up culture and more," Orenstein said.
Orenstein said that to address the negative aspects of sex and relationships, individuals have to look at the system, not the girls.
"We teach kids from the time they are little not to bully, to be compassionate, to be kind and to treat others with respect and humanity," Orenstein said. "But then we put sex over here as if it is something different."
Orenstein also said that American parents in particular tend to frame conversations about sexuality with risk and danger.
"Hearing an adult talk about how you can do what you want sexually as long as you feel good and respected by your partner is really interesting," Guzdar said.
Sophomore Hayley Sullivan attended the speaker because she had heard about "Girls and Sex" and wanted to learn more about Orenstein's philosophies.
"She made it clear that it's not about blaming one gender in any situation, but it's about self respect," Sullivan said. "The more people blame one gender, the more it creates a divide; that is a big problem in our society."
Other facets of sexuality and sexual relationships Orenstein addressed were body image and self deprecation.
"Self deprecation is seeing yourself as a collection of parts and monitoring everything; it also leads to less sexual satisfaction," Orenstein said. "Often girls feel entitled to engage in sexual behavior, but they do not feel entitled to enjoy it."
To contextualize the problem of oral sex often being one sided, Orenstein said that it is equivalent to an individual asking their partner to get them a glass of water from the kitchen every time the two are alone. Somehow it is less insulting with a sexual act, Orenstein said.
"Most people overlook the power dynamics of a relationship, but Orenstein's talk left me with a greater sense of how those imbalances play into almost every relationship," senior Danny Weekes said.
Senior Halley Wolin, who also attended the event, said that Orenstein made her more comfortable talking about embarrassing subjects.
"[Orenstein] made me realize how ridiculous it is to stay sheltered from a topic that is so natural and prevalent," Wolin said.
Orenstein said that so much is not talked about, but she wanted to prioritize the idea that sexuality is a broad spectrum or ideas and experiences.
"These things need to be talked about the same way we talk about everything else so that we have healthy relationships and enjoyable experiences," Orenstein said.