Beieler takes up camera, captures the moment
Students chat at a party. The sun seen from the Mountain View Cemetery dips behind the mountains. The Golden Gate Bridge gleams on a rare, clear day. All of these scenes and more have been captured by the camera of senior Jackson Beieler.
"[I like] capturing the moment and the emotions in the photos," Beieler said.
In early January, Beieler started an Instagram account and a website for photography, a hobby he has recently found interest in. Even though photography is a new hobby, Beieler said he has had a camera for around a year.
"I got it for my birthday and wanted to get into it but never did. Now, I take pictures every day," Beieler said.
For Christmas, he got a new lens for his camera and that ignited this newfound fascination with photography, junior Hanna Marie Hohener said.
"He was like, 'Oh I have this idea. I'm going to bring this to a party,' or, 'Let's go to the beach and take photos,'" Hohener said.
He has also taken pictures at the Mountain View Cemetery, his basketball tournament, and other social events. A couple of times, he has brought his camera to school as well, Hohener said.
"I thought it was kind of random when he just started taking photos, but I think it's really cool and now he goes to the city to take [Golden] Gate photos and beach photos," senior Gracie Petty said.
Beieler said he usually does not go to specific places to take pictures, but when he goes out, he'll bring his camera with him, in case an opportunity arises.
Since his passion for photography has escalated in the past month, he decided to create the Instagram account and website, purrtypeoplephotos.com, which feature the "Top 40" photos from each week, Hohener said.
"What I really like about them is I don't really think that they're fake or posed," Hohener said. "A lot of times on Instagram, you see all these posed photos. They're definitely like, 'Okay let's take photos for twenty minutes, and get that done and then continue on our hike.'"
Beieler said the Instagram idea came to him when he was taking pictures at a party and realized that people would probably enjoy seeing the memories they made that night.
"I look back at the pictures and it's kind of fun," senior Adam Low said. "It's really fun having a friend that does photography."
The Instagram has since gained hundreds of followers, most of whom are Piedmont students.
"Everyone sees it," Petty said. "So much of the scho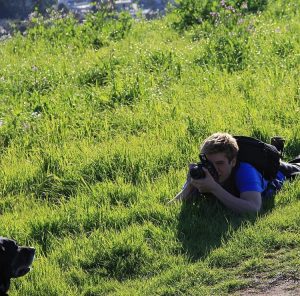 ol follows the Instagram, so it's fun seeing all my friends on it too."
Beieler also bought a drone which he can fly and take aerial photo for even more variety, Low said.
"I think he just likes to do it and he has a lot of free time, so it's something to keep him busy," Low said.
Despite enjoying taking pictures now, Beieler said he does not think that a career in photography is something he is interested in.
"He's really good at it. From what I've seen, I think he's really talented, so I think it would be really cool if he kept doing it because I think he likes it," Petty said.