Equestrians ride through high school with passion
While most students spend their afternoons doing homework or playing a school sport, some students instead work with 1,000 pound animals,  navigate difficult courses, jump over obstacles, all while trying to maintain their speed and grace.
"When I found a sport that really made me excited, it was something that I knew I really had to be committed to," said horseback rider junior Taylor Beasley. "And something that I found was really unique about the sport is how you can be in control of an animal with a mind of its own, and if it doesn't want to do what you're asking, it won't."
Sophomore Domenic Arrabit has been riding for the past four years and, like Beasley, plans on pursuing the sport for as long as possible.
"My unrealistic long term goals are most definitely Rolex or the Olympics," Arrabit said.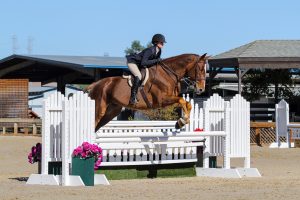 Beasley's commitment includes three to four hour practices in Castro Valley, five days a week, taking care of her horse and going to the gym four-to-six days a week to stay in shape for riding.
"A lot of it is time management and making sure that you're not procrastinating all of your work because, by the time you get home, you're not only mentally fatigued, because it is a quite mental sport, you're also physically fatigued," Beasley said. "As much as people say the horse does all the work, they'll just stand there if you don't maneuver them and put them where you want them to be," Beasley said.
Arrabit competes in three-day eventing, going to shows nine to 12 times a year.  Three-day eventing is comprised of three events: show jumping (jumpers), cross country and dressage.  Jumpers is judged on time, cross country involves jumping natural obstacles in an open area, and dressage is about control of the horse, Arrabit said.
"I mostly do jumpers, but I would really like to try other variations like equitation," Arrabit said.
But despite them both being passionate about the same sport, Arrabit and Beasley only know each other in passing.
"We go to the same competitions and say 'hi' to each other in the halls," said fellow rider sophomore Hayley Sullivan. "But overall it's really nice to have people at school who understand the commitment and share your love of horses."
Despite Piedmont's history and reputation for being a wealthy town, it lacks the same level of competitive equestrians as Palo Alto or Sonoma where people have more money to spend on the right gear and the right horse, Beasley said.
"Right now I'm leasing my horse because a good show-jumping horse can cost a few thousand dollars, and leasing saves some of that money to spend on training and equipment," Arrabit said.
However, all the time and effort spent is worth it because one gets to be around horses and compete, Arrabit said.
"It's not just showing up to ride your horse and then going home," Beasley said. "It's making sure that your horse feels good, and what you can do to make them feel better the next time you ride. Really, it's not something you can understand just by hearing about it, but I would encourage everybody to try it."