Girls hack through the glass ceiling
The sounds of urgent clicks on keyboards and soft chatter fill the room. The group of girls focus, each working on their own creation, yet all striving to become more experienced coders. After hours of persistence, teamwork and Google searches, new apps and websites materialize.
The PHS Girls Who Code club, created in 2014, sparks interest in technology among students and allows them to actively experience the world of coding.
Girls Who Code member freshman Natalie Lim first became interested in apps and software development when she attended a summer coding camp. Lim joined the club because she wanted to meet other students like her who are passionate about technology.
"In the club you get to talk to people and solve problems together which makes coding more fun," Lim said.
When senior Lea Rygg moved from Scotland, where coding resources were limited, the abundance of opportunities in the Bay Area surprised her and she felt motivated to get involved with Girls Who Code at PHS.
"It is a great community and everyone wants to create and innovate, which is the most important part," Rygg said.
Co-president of the Girls Who Code club and senior Shannon Yan said that she enjoys creating apps with her friends in the inclusive environment at PHS.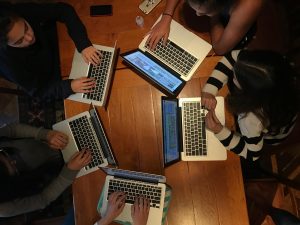 "I've always been welcomed and encouraged to study whatever I want, which I am very grateful for," Yan said.
Coding is not something that can be mastered or done perfectly; the Girls Who Code club is about branching out to try something new and to experience more in computer science, Rygg said.
Currently, the club is participating in the Technovation Challenge, where students are in teams researching a problem in the community and brainstorming possible projects to address the issue, Yan said.
The entire Girls Who Code movement is powerful because it shows girls that they can be passionate about coding and excel at it, Lim said.
Founder and CEO of the national Girls Who Code organization, Reshma Saujani said she has always been passionate about creating economic opportunities for women.
Saujani said she wants to inspire girls to identify something in their community that needs to be solved and make the connection with technology to improve that.
"Being the daughter of refugees, I've always put a huge emphasis on making sure we reach underserved girls," Saujani said.
Saujani also said that it is important that girls have role models in the technology industry.
"Mark Zuckerberg and Steve Jobs don't look like me or you and when you are a teenager, you are looking for people that you see yourself in," Saujani said. "If you don't see that, how can you aspire to be something?"
In 2015, women held 57 percent of all professional occupations, yet only 25 percent of all computing occupations, according to the National Center for Women and Information technology.
"When I hear these statistics it makes me want to bring the experiences of [Girls Who Code] to others; it motivates me," Yan said.
Rygg sees this gender disparity even in her experiences in high school. When taking an engineering class in Scotland, only two out of the approximately 100 students were girls.
This trend reveals itself in the Bay Area as well, Lim said. At her summer coding camp, Natalie and her sister, freshman Diana Lim, were two of the few girls attending.
"It kind of makes you not want to code," Natalie said. "But at the end we achieved the same thing as everyone else and that made me feel way more equal."
At this camp, Natalie and Diana created an app called Galleree, which collects moments into a personalized timeline, and is currently in the App Store.
"My sister and I both have free seventh periods so we use that time as an independent study project period where we work on our own apps and websites," Natalie said.
Also furthering her interest in technology, Rygg attended two hackathons, where she attended workshops and then teamed up with other students to create an app or website.
Yan said that when women get involved in technology, they use it in a way to inspire other young women and tackle social issues.
"[Girls Who Code] is a movement to close the gender gap in technology," Saujani said. "It's also a movement to create the next generation of changemakers."