Living in the future takes away from the moment
The phrase "Just three months left!" rings through the senior class like a bell, chiming with the excitement and eagerness of closing old doors and opening new ones. While this chime acts as an all-encompassing sound, constantly reminding us of how close we are to the so-called "finish line," it is important that we stay tuned to the other sounds around us; we can't forget about the present amidst the noise of the future.
I entered senior year fearful that I would be spending all of my time dwelling on the lasts that were to come. I realized, though, that even with the image of a clock hanging over my head, I went about my days like any other year, keeping myself busy with the routine that came from my daily activities. The noise of the future was almost so dim that I rarely ever stopped to think about the bigger picture of what was happening. It wasn't until the end of the first semester that it all hit me. The phrase "Three months left" now finds its way of entering my mind between conversations, activities, meals, and even sleep.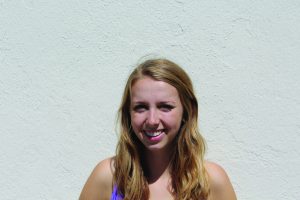 While the noise of the future has grown louder, I am working on finding a balance of being mindful of the future while still enjoying the present. This, I believe, is something we all need to work on. Rather than dwelling on the time we have left in fear and nostalgia, we should address it with goals and plans for what we want to accomplish in our last semester of high school. While those "senioritis" symptoms can be hard to avoid, we should try to stray away from the concept, and instead use this time to participate more than ever, striving for last minute accomplishments, or adjustments to our own character. This can be as simple as thinking twice before you skip the rally or deciding against attending a Lacrosse game. It can be as simple as saying "hi" to people in the hallways that you don't normally talk to or partnering up with someone new. There is only a limited amount of opportunities to utilize and memories left to make to add to our high school stories.
While it's easy to rush through our days, spending time scrolling through social media or binge watching our favorite series on Netflix, it's important that we at least attempt to slow things down. Live momentarily, but also take time to acknowledge all that we have, whether that's the people we love or the opportunities our community has had to offer.
Be excited for the future, but be mindful of what we have in the present. These are the days that we will be pulling stories from years from now. Whether those stories are told with humor, regret, nostalgia, or joy, it's up to us to ensure that we at least have something to tell.