Students explore Washington D.C. over break
Two thousand four hundred twenty nine miles from home, Piedmont students might find themselves wondering how they ended up walking through the National Mall with students from all around the country. The answer: Close Up, a hands on government studies program led by social studies teacher Alli Cota. From Feb. 19 to Feb. 25, Cota took a group of 22 PHS students to Washington D.C. on the annual Close Up trip. This past trip was the 18th time that Cota has taken students to D.C. with Close Up.
The goal of the Close Up trip is for students to learn about democracy and government outside of the classroom setting, specifically through experiences that are unique to D.C., such as seeing Washington insiders or witnessing a real debate between a conservative and a liberal, Cota said.
Senior Cato Leist said that he had been looking forward to this year's trip since Oct. 2016 when sign-ups first began. From October up until February, students intending to go on the trip gathered with Cota to discuss current events and take news quizzes in order to be well prepared for the trip, Leist said.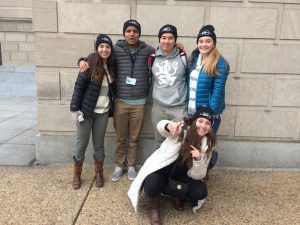 "I thought it'd be fun to go with friends and I am more interested in politics now than ever, so I thought it'd be interesting to see where it is done," Leist said.
While the trip is centered around political science and government, diversity is a big element of the trip, be it in the different activities and places in D.C. that students have access to, or meeting the hundreds of other students from across the country, Cota said.
"To be in the nation's capital with students from all over the country who have totally different experiences than them and are really diverse culturally, geographically, ethnically, in terms of gender; it's great," Cota said.
One of the students who went last year, senior Halley Wolin, said she experienced the ideological and political diversity of Close Up firsthand as she interacted with many other students from across the country, making friends from a variety of states including Washington, Michigan and Texas.
"It was really cool to see, especially people from the South, their views on [politics] because it is very different than in the Bay Area," Wolin said.
In addition to spending time in the capitol building as part of Close Up, students are also given a free day later in the week to explore D.C. Students can wander freely, exploring  museums and monuments or touring neighborhoods such as Georgetown, Cota said.
"We got a free day, so a friend and I went to a whole lot of museums in D.C., and that was really fun, so I would say that was my favorite part," past attendee, senior Victoria Hou said.
The Close Up trip not only gives students a chance to see democracy in action, but also to see the city itself, including all of the presidential monuments, war memorials, Smithsonian museums and the capital, Cota said.
"I think [Close Up] did a really good job of giving us time to reflect on what we saw and giving us time to apply it to previous historical knowledge, but also giving us a chance to explore the city and explore different landmarks," Wolin said.