Students musicians play joint show, bridging genres
The crowd goes wild as the strum of the guitar, the deep rhythm of the bass, and the sharp roll of the drums fill the air. Senior Jakob Armstrong and his band Danger, along with senior Walker Johnson, played a joint concert on Feb. 17 at 1234 Go Records.
Danger is comprised of Armstrong, who plays guitar and sings, sophomore Enzo Malaspina also on guitar, sophomore Kevin Judd on bass guitar, and Chris Malaspina, MHS class of '16, on the drums. This show may have marked the last time the group performs under this name, as they recently switched to "Mt. Eddy."
Johnson is a solo hip hop artist, although he is hesitant to categorize himself and his unique style.
"I make music based off myself and what I like, so I think it's kind of like hip hop, in the broader sense, but I don't feel like calling it anything really," Johnson said.
Johnson said he has been making music for about five years now.
"I have always loved music, it just took me a while to realize it was something I could actually do myself," Johnson said.
"This is the first time that Danger has collaborated with [Johnson] on anything," Armstrong said.
Danger has been together for almost two years now and has a wide style range, Armstrong said.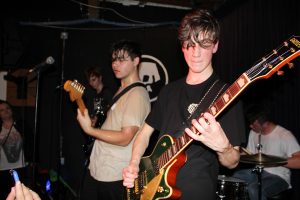 "We kind of play whatever we feel like playing," Armstrong said. "It can vary from punk, to more bluesy type stuff, to just rock and roll."
Senior Cade Becker, a close friend of Armstrong's, has been a fan of Danger since the band's beginning.  He said that it is always cool to see Armstrong in a different atmosphere than he is used to.
"I've seen all their local shows and have even seen them on tour twice," Becker said.
Since the release of Danger's first EP, the group has been building up a large fan base, Becker said. Because of this, Becker said before the show that he expected there to be a lot of energy.
"[1234 Go Records] is really small so you have to pack a lot of people into a really small room, and it makes it really fun," Armstrong said.
The crowd saw a show with a wide range of musical styles, as Cardell Mike, MHS class of '16, performed alongside Johnson as well.
"I don't know if anyone knows who I am, so I hope they're not too bummed that I don't play rock music," Johnson said. "I rap, but I hope they rock with me."