Williamson tunes in to the arts community on and off stage
As junior T.H. Williamson spins the dials on his large silver amp, the sound filling the room goes from the background noise at a country rodeo, to the harmonizing ballad of a independent rom-com, to the action soundtrack of an alien movie and back to the rodeo again. Everything in the room is larger than life, from the special effects of the amp to the cherry red electric guitar all the way down to Williamson's eclectic outfit, but one thing rings true no matter what tone the music takes: Williamson's devotion to his art and the deft skill with which it is played.
Williamson is all in when it comes to his creative endeavors, whether it be his music or his acting. With acting, Williamson was most recently seen in the fall Advanced Acting play, "The Drowsy Chaperone."
Williamson said that acting gives him a sense of accomplishment, strumming his guitar to lend a background tune to his comments.
"It's like an energy release, in a way," Williamson gesturing widely as he spoke. "It's a good way to put a lot of effort into something and get a lot out."
As the protagonist of the production, Williamson had to bring more emotion to his acting than the rest of the cast, said senior Daniel Weekes, the "Drowsy Chaperone" stage manager.
"I think all the other roles in that play are like archetypes of themselves, so a lot of the roles are very surface-level," Weekes said. "[Williamson] really had to give a whole range of emotions from being funny to being insecure to being sad. It's incredibly hard to do that."
In addition to the emotion needed, Weekes said that Williamson's role challenged believability, as the hermit character was far from the outgoing Williamson.
"He had a really cool role. It was very Boo Radley-esque. It's this agoraphobic man and so he had to embrace this side of him that's totally not him," Weekes said. "[Williamson] is such an outgoing person that it's hard to see him as this quirky, pent-up apartment dude. "
As Williamson hunches over his guitar, he tilts his head, considering his next words. Williamson said that acting and embracing different roles allows him to examine his own life.
"By engaging myself constantly with some artistic endeavor, I find that I can assign meaning to my life more than anything," Williamson half-giggles, commenting that he sounds like one of his favorite philosophers. "It just gives me a clearer sense of self."
Williamson's two passions blended together in "The Drowsy Chaperone" when Williamson incorporated his love of music into his character, Weekes said.
"[Williamson] had to incorporate friendliness and happiness [into the role]. He is super dedicated to music and records, and so he had to incorporate that, being passionate about musicals and these old Gabel and Stein records," Weekes said. "He was able to take aspects of his own life and put it into his own character."
Music is easier to work into day-to-day activities, so it is more constant than acting in his life, Williamson said.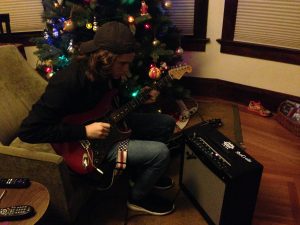 "I can just pick up my guitar and start playing stuff, start messing around, improvising. With acting, there is a lot more process," Williamson said. "I'm a lot more confident in what I am doing with music than I am with acting, despite the fact that I love both equally."
Williamson said he is currently working towards a more polished and focused product with his music and trying to grow as an artist. His main inspirations are 20th century surf rock, jazz rock and blues rock.
"I'm looking a lot more into the artistic side of music and into the more technical side, to kind of find vibes and themes musically and sonically that evoke some emotion as opposed to just sounding good." Williamson said.
Williamson said that, as opposed to his days with his previous band,"The Devil's Pimpmobile," he now draws vaguer inspiration from the wide range of music he listens to.
"There are couple of chord progressions I have, a blues progression, a couple of jazzier progressions. I can glean stuff from them, and then usually some kind or part of a song comes out of that," Williamson said. "I tend to switch it up every so often, because if I was using the same stuff over and over for inspiration, it would get very dry, very quickly."
The last comment resonates like a whimsical line from a musical such as "The Drowsy Chaperone." Williamson has a unique rhythm that originates from the fact that he is a self-taught guitarist, Williamson's former bandmate junior Sam Darwish said.
"Instead of having a teacher every week hammering into you their style and their way to play, you're very much left to your own devices, which means you mimic what you hear and what you want to sound like," Darwish said.
The unique nature of Williamson's music does not end at the rhythm. Williamson maintains integrity and stays true to his vision for his art, Darwish said.
"He marches to the beat of his own drum. Sacrifice in the name of compromise in his own work is out of the question," Darwish said. "In the terms of his own creative endeavors, it's very much 'work until you get what you want.'"
As to Williamson's presence and contribution to the acting class, junior Abigail Willson had only positive things to say.
"It really is what you make it, and he's bringing his all to it," Willson said. "He's making it better for everybody."