Sense and Sensibility debuts at Alan Harvey Theatre
On March 9, "Sense and Sensibility," a PHS production, debuted at the Alan Harvey Theatre. The play is an adaptation of Jane Austen's "Sense and Sensibility," centered around two sisters, and the societal and familial pressures of 18th century England.
Sense and Sensibility also performs on Sat., March 11, at 7:30pm at the Alan Harvey Theatre. Tickets can be purchased online at sensephs.brownpapertickets.com or at the door. $12 for adults, $8 for students.
The story follows the sensitive Elinor and the practical Marianne Dashwood, as they struggle to come into their own, amidst rumors and gossip surrounding their father's sudden death.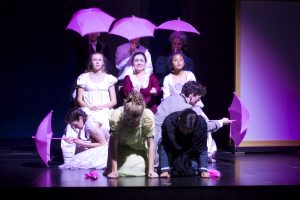 Junior Olivia Adams, who played Marianne, said she has enjoyed stepping out of her comfort zone by mastering a British accent, and playing a character opposite to her own personality.
"Marianne is a very buoyant person, she's very intense and feels everything very strongly," Adams said. "And hopefully that was translated on stage."
Many members of the play were cast in dual roles. Junior Andrew Hansen played both Edward and Robert Ferrars, two very opposite brothers. In one scene, Hansen has to perform a monologue in a Cockney accent as the very funny and charismatic Robert.
"Throughout our rehearsals, Andrew has been changing his monologue every time," Adams said. "This time, he really brought out the funny stuff, and we all started laughing and some of us broke character. He wrote the whole thing himself."

Hansen created his monologue to personally fit the actors on stage, such as inside jokes, so many of his lines caused some giggles.
"I loved Andrew Hansen's British rant," junior audience member Alison Prendergast said. "It was hilarious."
Adams said the connections made behind the curtain were key for a great performance.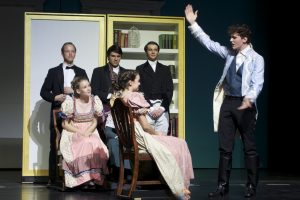 "Throughout the three, four months we have been practicing for this play, there were a lot of new connections, new friendships," Adams said. "Tonight, since we had all the blocking down, all the transitions down, it was the night we could act for each other, and show those connections and friendships we have made."

Juniors Kit Asa-Hauser and Lian Call had a very important role in "Sense and Sensibility": tech. Call controlled the sound booth, and Asa-Hauser made sure everything ran smoothly. They worked together for transitions in between scenes.
"I was sound, so I did the dinner scene and the carriage scene, which was really fun," Call said. "We did a lot of transitions."  
Asa-Hauser and Call had seen rehearsals many times, and were pleased with the final results.
"It really pulled together, and watching it grow through the whole process and everything." Call said. "It was just amazing to see it all come together by opening night."
Seniors Cade Becker and Madison Wilson took on two major roles for "Sense and Sensibility," as assistant directors and stage managers. They also had a few moments on stage.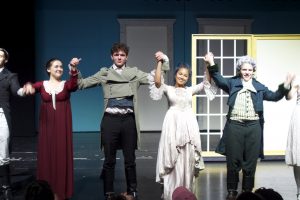 "I was the stage manager, a.k.a. servant," Becker said. "I played the late and great Mr. Dashwood, and then I died."

Adams said she noticed the audience was very lively, and that the actors fed off the energy of the audience.

"Overall I thought it was a very good first performance," Adams said.