Athletics: giving teams the financial boost
The early spring sun glints off of a lacrosse helmet, illuminates the perspiration on a track athlete's forehead, bounces past a swimmer's elbow, flies past a birdie in Binks Gym and finally lands on a stack of budget sheets in the athletic department office.
Over 78 percent of high school students participate in PHS athletics, according to the athletics website. That's 634 students, 49 teams, 21 sports.
Every penny that these teams donate, raise or spend is approved by the athletics department, athletic director Vic Acuña said.
"The management in terms of keeping track of things and paying bills is under the athletic department," Acuña said.
Every year the athletic department receives $50,000 from PUSD. Most of this amount is spent on paying for WACC (West Alameda County Conference) and CIF:NCS (California Interscholastic Federation: North Coast Section) league dues, assistant athletic director Megan Hernandez said.
The department also receives $100,000 to pay for the coaches' stipends. This amount is supplemented by the $325 donation that the athletics department asks that parents make for every sport that their child participates in, Hernandez said.
"There's a sliding scale for coaches; this was established in 2007 by a committee," Hernandez said. "The committee wanted to make sure that Piedmont was comparable [to other districts] and that we could hold good coaches."
Coaches' salaries vary based on the length of the season for their sport and the number of years that they have coached at PHS. There are three tiers: those who have coached for one to two years, those who have coached three to four years and those who have coached for more than five years. On average, all coaches earn about $132 per week, Hernandez said.
Once coach stipends and league fees are paid for, the extra money from the $50,000 goes towards funding sports teams' needs, Hernandez said.
"[The athletic department] is a support network because we don't have this huge athletic budget that we can disperse all the way around," Acuña said. "Coaches figure out what kind of budget they need for their specific sport."
At the beginning of each season, coaches meet with the athletic department to go over their targeted budgets and get them approved. These budgets take into account the team's needs such as new equipment, uniforms, travel expenses, etc., Acuña said.
"Budgets are created by each team and for each team whether it be through donations, fundraisers or Boosters," Acuña said.
Two types of donations are asked of players' families: the coaches stipend fund, as mentioned earlier, which is strictly set aside for the assistant coach's salary, and specialized donations to help cover other needs for the team, Acuña said.
These donations are encouraged but are not required. Required payments for school sports are prohibited in public schools, Acuña said.
Besides donations, another source of revenue that sports teams utilize are fundraisers. Individual teams often host tournaments, work the snack shack (operated by Boosters) or hold other events to raise money. This money does not go to the athletics department, instead it stays within that individual team's budget, Hernandez said.
However, the gate fee at football games does go to the general athletic department fund. NCS games do not earn the department money, for the fees go directly back to NCS, Hernandez said.
"Our mission as a department is to support where we can and where we need to, but we are not necessarily set up to be the only financial support system for all the teams," Acuña said.
If funds run low even after donations and fundraisers, sports teams can turn to Boosters.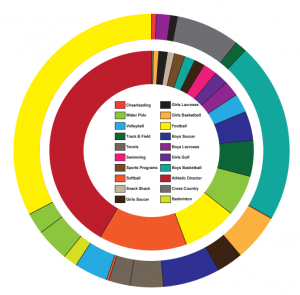 "School districts first or foremost are there to support academics, and so extracurricular things often need to be supported from outside funding," Boosters president Beth Barrett said.
Both PMS and PHS have a Boosters club. The PHS Boosters club was founded in 1978 in order to support the interscholastic athletics program, according to the athletics website.
"[PHS Boosters] is a non-profit," Barrett said. "I'd say almost every high school has a Booster organization. It's a pretty common thing at a major high school the size of Piedmont."
The PHS Boosters club has two main sources of revenue: the club member registration fee and the Highlander Classic fundraiser, Barrett said. Membership fees brought in $32,000 this year.
"At the beginning of every year at registration, similar to other support organizations, you can join the Boosters at many different financial levels," Barrett said. "We'll take $5, or we'll take $500, any amount of money."
The other key component to Boosters' revenue is the Highlander Classic, an annual fundraiser held at the Claremont Country Club in October. The event, sponsored by Piedmont parents, raised $45,000 this year, Barrett said.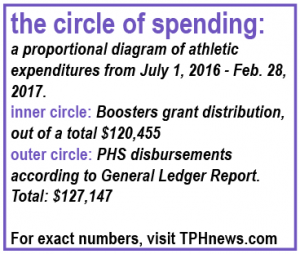 Besides these two events, Boosters has resorted to other means to ensure the club's success. Just last year, the club bought sponsored signs to hang on the Binks Gym wall.
These have contributed $18,000 to the Boosters budget this year.
"We didn't make money on them the first year, but now–going forward, now that they're paid for–we can renew the sponsorships every year, and that's going to bring in money to help support our programs," Barrett said.
Once the funds have been collected, the decision on where to spend the money is made in monthly meetings between Boosters board members, school council members and the athletic director.
To ensure that all of the team's needs are met, every varsity and JV team has a Boosters liaison, who is responsible for communication between the team and Boosters, Barrett said.
"Their job is to be the eyes and ears of their program," Barrett said. "They'll have conversations with the coaches of the programs and with the athletic director and if there is a need in the program they will put together a very formal grant request [to present to the Boosters board]."
Grants are usually considered prior to the season of the sport. Requests over $1,000 dollars must be approved by the Boosters board, while those less than $1,000 can be considered by the Boosters executive committee, according to the athletics website.
Varsity women's soccer team manager Andrew Coleman said that last year the team got new jerseys, which were paid for by Boosters through the process described above. Similarly, softball got new pads for the outfield this year.
Besides spending money to fund sports teams, Boosters also puts aside approximately $6,000 annually for the Witter Preservation Fund, which is a fund that will be spent towards longer-term and more expensive projects, Barrett said.
"There are a lot of facility issues, especially down at the Witter complex: drainage issues and the need for new scoreboard, so we're trying hard to plan ahead for those projects," Barrett said. "A majority of our wish list projects are really big numbers that we would have to do additional fundraising for."
An unprecedented Boosters expenditure this year was a contribution of $50,000 to the salary of the newly hired athletic director. However, this grant, requested by former principal Brent Daniels, will be a one-time donation, Barrett said.
Barrett said that she does not know how the athletic director's salary will be financed in the coming years, but has heard that some funds may come from summer programs that the athletics department is hosting in coordination with the Recreation Department.
Leveling the Playing Field
Boosters has no set budget for each team because every sport has different needs. For example, men's lacrosse players need a lot more protective equipment than badminton players; therefore, they often need more money, Barrett said.
"We don't operate that way because it's really based on need. Some sports are just much more expensive to run than others," Barrett said. "We really only grant things that will stay within the program."
Similarly, Acuña said that there is no set, annual budget for teams.
"There are definitely sports that receive more funding than others, that both need more money and raise more money," Acuña said. "Usually that comes down to numbers. How many people do you have participating on the team? And based upon that number, what are your needs going to be for that specific year?"
Senior football player Brandon Lew said that it seems as though football receives more funding than other sports because of the amount of gear they need and buses for transportation.
"A lot of it has to do with fundraising and dinners held for football that are more active so they tend to bring in more money," Lew said.
Acuña said that football requires more money than any other sport as they have to travel in two buses to away games because they cannot fit the football players into a carpool with all of their gear. From July 1, 2016 to Feb. 28, 2017, the team distributed $41,479, according to the PHS General Ledger Report.
"The needs for every sport aren't the same therefore the money for every sport won't be the same," Acuña said. "Some coaches are much better about going to Boosters and asking for the money and submitting grant requests, but everyone has the same access and the same opportunity to get those resources."
Senior soccer player Leah Kochendoerfer said that she has noticed the differences in funding for various sports.
"I know that my freshman year, the guys [soccer] team got really nice gear and bags, whereas I had to split one windbreaker with three other girls," Kochendoerfer said. "Maybe due to the people representing the team not pushing for it, or maybe it's just a history of not expecting anything."
This issue is addressed by the Title IX Javits Amendment, which states that legitimate, non-gender related discrepancies such as cost of equipment, can be taken into account. Therefore, there can be a difference in funding for football and soccer equipment as long as the quality of the equipment is the same.
Addressing this issue, Barrett said that the Boosters board pays attention to how many grants each team gets and tries to even it out.
"We would never say 'no' to any sport and we definitely take into consideration if the team hasn't asked before," Barrett said. "This doesn't happen, but if some team were to come back to us every year, we would say 'We need to focus our money on those who haven't been taken care of.'"
Acuña also said that he works to maintain a balance in how much money each team receives, according to need.
"As the director of athletics, I look at things and decide what's necessary for our teams to have so there's not a disparity between sports," Acuña said.