MHS community bonds over masquerade ball fundraiser
Millennium High School's ASB and Parents Club hosted the annual MHS Community Dinner on March 19 at the Piemont Veterans Hall. The fundraising event occurred from 4:30-7 p.m., and included a catered dinner, silent auction and raffle-type games.
"[The] MHS greater community [was] invited, which includes parents, students, friends, siblings and anyone from the community who would like to come," MHS ASB teacher Marcela Privat-Gilman said.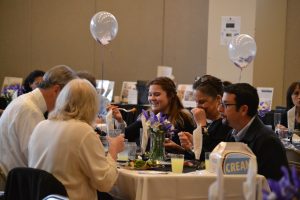 About 128 people attended the event, including 20 MHS students, eight MHS teachers and 100 community members who bought tickets, MHS Principal Sati Shah saidThe Community Dinner raised a total of $13,000, and after deducting the expenses from hosting the event, MHS will net about $11,000, MHS Parent Club Co-President Ulla Smit said.
"The Community Dinner is our largest fundraiser of the year," Shah said.
The proceeds from the fundraiser go towards MHS initiatives such as the biannual Camp Augusta trip for students, Shah said.
"The Community Dinner is an important component of how our school affords our Camp Augusta retreat and other beginning of the school year retreats such as Camp Everytown," Shah said. "The funds raised at the Community Dinner also enable the MHS Parents Club to support initiatives such as technology and increasing cross-curricular collaboration."
MHS ASB member and junior Morgan Shelly said that this fundraiser is important to MHS because it pays for everyone to attend the Camp Augusta trip, which allows the students to bond at the beginning of the year.
To raise the money for these trips and initiatives, ticket funds helped to contribute. For tickets, adults paid 35 dollars, kids paid 10 dollars and MHS students got in for free.
"This is a fundraiser, so the ticket proceeds go to ASB," Privat-Gilman said. "ASB and the Parents Club also have a silent auction, and that money goes towards the Parents Club."
A silent auction also raised funds during the event. The auction included a trip to a vacation home in the Lake Tahoe area, VIP tickets to a Green Day concert, art, food, parties hosted by MHS parents, spin classes, dog walking, and guitar, sailing and soccer lessons.
Other than the silent auction, attendees participated in raffle-type games.
"One game is the balloon popping game, where a participant pays a dollar for a balloon, and then pops it to find a prize inside," Shelly said.
MHS ASB decided on a masquerade ball theme this year, which encouraged, but did not require, attendees to dress formally and wear masks. Keeping with the theme, ASB decorated the hall with black and white decorations and a photo booth, said MHS ASB Vice-President and junior Max Miller.
Shades of Gray, a band based in Piedmont, played music at the event, Shelly said.
"Students [sold] masks that they had made as part of the fundraiser," Privat-Gilman said.
These dinners bring together members of the MHS community, making them special every year, Miller said.
"It is an experience where the parents and the students all socialize together," Miller said. "I feel like there aren't many events like [this], so I think it's the one place where all of the Millennium parents can come together."
The Community Dinner is more than just a chance to fundraise for the school, because it allows everyone to join together, connect, celebrate and support MHS, Shah said.
"In addition to this being a fundraiser, the reason we call it the Community Dinner is it really is an opportunity to just have staff, students, siblings, parents, grandparents and friends [all together] in a different type of setting," Privat-Gilman said. "It's not an open house. It's not a back to school night. Let's sit down, let's eat some food together, enjoy some entertainment and raise some money for our students. It's a unique thing that we are able to do as a whole school, because we are small."
MHS has hosted fundraising dinners for six years now, but over time they have changed, Shah said.
"[The community dinners] have evolved," Privat-Gilman said. "It used to be at someone's house, at the student center, then at Veterans Hall, and it's been there for a few years now."
The years of MHS's community dinners mark examples of Piedmont's emphasis on fundraising for their education, Shah said.
"The culture in Piedmont is one that believes it takes a community to create great schools," Shah said. "That shines through in the MHS Community Dinner and in all of the ways that the community supports PUSD."
Shah said the Piedmont community is generous and steadfast in its support for their schools.
"The work of our community in supporting MHS is among the greatest I've seen in my career as an educator," Shah said.